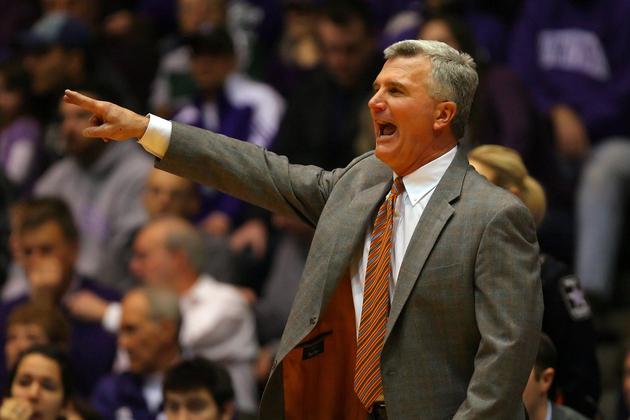 Posted by Eric Angevine


In the Big Ten, talent is not enough. A look at Michigan State, a team that is falling hard despite a talented and experienced roster, will give you anecdotal evidence of that fact.
In a similar vein, the Illinois Fighting Illini have plenty of talent. Bruce Weber's team is currently fourth in the league race, but it's a highly dubious fourth. At 5-5 in conference play, it's tough for fans to get overly excited about the standings. A once-impressive win over Michigan State loses value every day, and losses to Penn State, Indiana and Northwestern have cast serious doubts on this team's ability to enter postseason play at all, let alone on a high note.
And they have the talent to do better. Demetri McCamey has an NBA-worthy skill set, but his recent play has been erratic. More baffling is the performance of the Illinois bigs. Mike Davis, Mike Tisdale and Jereme Richmond present a rather formidable-looking frontcourt, but all three were held to single digits in scoring and rebounding by the much-maligned Northwestern bigs in Saturday's 71-70 loss.
So what's missing? Coach isn't shy about saying it. It's grit, he told
Paul Klee of IlliniHQ.com
.
"When you're looking for the future, you've got to find (a guy) that maybe doesn't have quite as much talent but he has that toughness and leadership that makes a difference. If you find the special guy that is talented and has the toughness and the leadership - whether it's Deron or Dee, or (Jared) Sullinger or (David) Lighty - that's when you really have the special teams."
So, he knows this team has had it in the past, and he acknowledges that his opponents have more of it right now than he does. So where's the silver lining for current Illini fans?
"I think this next group, Tracy (Abrams), that's what he's about. He's got a little bit of an edge, the toughness. Nnanna (Egwu), he plays his butt off. He loves to play," Weber said. "I even think with our guys now. Jereme (Richmond) has great competitive spirit. I think Meyers (Leonard) does. He's just got to control his emotions a little bit. I think Crandall (Head) really does. I feel good about all those guys, and the incoming group also."


Hmmm. That sounds an awful lot like "Wait 'til next year", which is not a popular phrase in the state of Illinois. A 5-5 record is a tipping point. Bruce Weber's team is sitting right on the fulcrum, and something or someone is going to tip the beam over the next few weeks. The question is, which way will it fall? Thursday's road date with a sinking Minnesota program will give us some indication as to whether Weber has found the right buttons to push. Sunrday's home game with 8-3 Purdue will be a Herculean task, but could still show some promise.
The problem is, the Boilermakers knew where their toughness was going to come from in November of last year. Heck, maybe even in July. At Purdue, toughness is a program mandate under Matt Painter, and I'd be surprised to ever hear the head Boilermaker sending out a public search party looking for his team's heart.
If the tenacity Bruce Weber seeks is there, hidden somewhere he can't find it, dissatisfaction in Champaign is going to reach an all-time high.