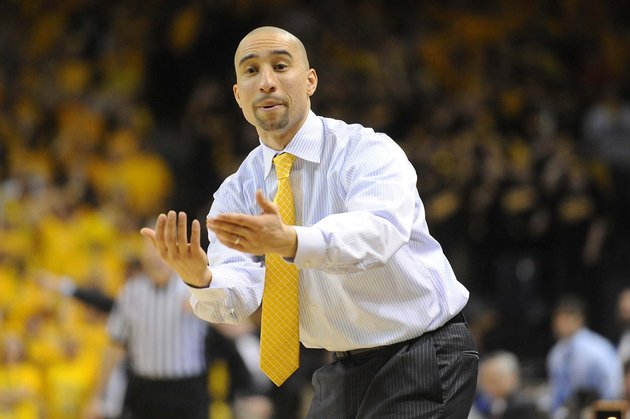 Posted by Matt Norlander
What a great way kick off BracketBusters.
At the very least, it was a game of note, impact and controversy. From that perspective, it delivered all anyone could ask of it.
Putting VCU-Wichita State on a 7 p.m. Friday-night telecast isn't the easiest way to bring the country in to watch mid-major basketball. And even if the game wasn't played with the highest of quality, it was close, and back and forth, and had us wondering who would win until the end. So, for that, I'm thankful. Virginia Commonwealth-Wichita State had six ties, 12 lead changes and one bad call that lead to VCU winning it, 68-67,
likely killing Wichita State's (22-6) at-large chances
in the process.
That's sort of the point of this whole made-for-TV BracketBusters thing. The Shockers have now lost four home games and can still only claim Tulsa as their best win.
The crux of the controversy: After Wichita State's Joe Ragland hit two free throws with less than four seconds remaining, VCU's Joey Rodriguez sprinted down the floor and was then fouled on a questionable call with .8 seconds remaining. Rodgriguez, facing a maniacal crowd that violently waved its arms and posters and other crazy, elongated distraction-makers, calmly sank both his free throws to give the Rams the lead.
Wichita State's David Kyles couldn't hit the game-winning shot from 3.
The foul call on Rodriguez was all too kind for a team to receive on the road. The view from the far end of the court didn't suggest there was much contact at all. Credit Rodriguez for selling the body language on what was a miserable shot choice; the Shockers' defense did force him into such a bad shot.
When you look at how the second half played out, Shaka Smart's (above) team was fortunate to win, not only because of the gift whistle on Rodriguez (and I'm not bent out of shape over it; I just couldn't believe he got the call), but there were some bad fouls and turnovers by the Rams down the stretch. Yet they come out with the win.
VCU (21-8) now has wins over UCLA, Old Dominion and Wichita State. It's not the bag full of impressive, but should the team reach the CAA finals, it probably is going to get a bid.
Photo: AP