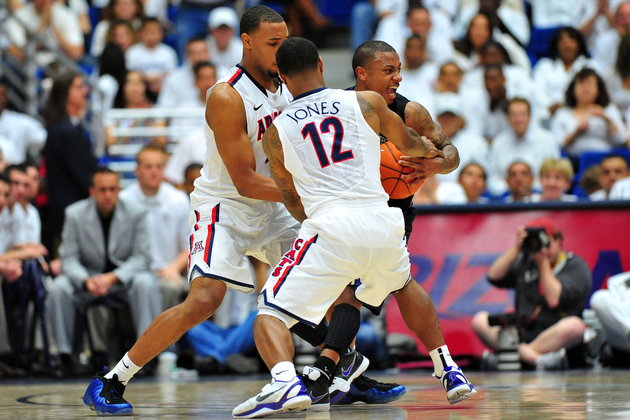 Posted by Eric Angevine


When Derrick Williams blocked Darnell Gant's potential game-winner out of bounds with one second left, he distilled all of the game's truly nasty intensity into throwing back a layup that he probably should have just tapped to run out the clock.
Such a gentle ending would have been a severe disappointment after the knock-down drag-out game in the McKale Center. The game was played inside a howling maelstrom of white-clad Wildcat fans, under the auspices of an officiating crew who seemed to feel they were calling a playground event. Nobody was complaining, though. In a heavyweight brawl, you expect to see a little blood.
In a game that was fueled by pure will, both teams had plenty of heroes. For the visitors, Matthew Bryan-Amaning scored 24 with 9 rebounds, 4 assists, 3 steals and 6 blocks. If there was a bigger overall stat line elsewhere in the nation, I'd like to see it. Pint-sized Isaiah Thomas dished out 9 assists, and freshman C.J. Wilcox came off the bench to hit 4-8 from deep as part of a 19 point effort.
That was a nice individual effort by Wilcox, but it pales in comparison to the Wildcat team effort. The Wildcats went 11-18 for a stunning 61 percent deep-shooting percentage and got nice rebounding games from Solomon Hill (7 boards) and Jesse Perry (6) in support of Williams.
Williams made his usual big impression even though Bryan-Amaning was probably the player of the game. The likely top-5 NBA draft pick had 26 points, 11 rebounds and 2 blocks, the last one being the most valuable in spite of Williams' use of excessive force.
Arizona is rounding into the kind of team that will claw for every win, and Washington showed why they were the preseason favorites in the Pac-10. The UCLA Bruins get a shot at both teams before the season is over, so this league is far from settled. However it plays out, this game should give the lie to the popular conception that the Pac-10 has gone soft.