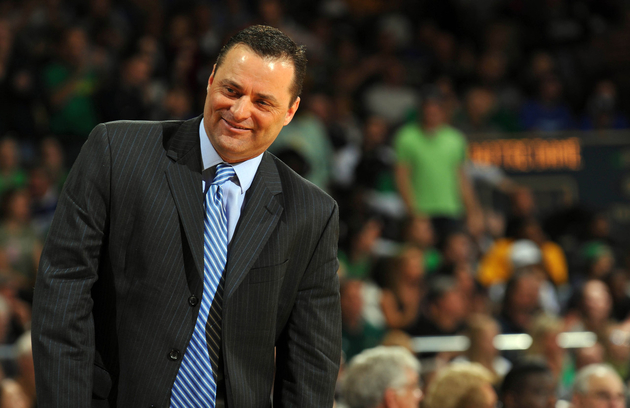 Posted by Eric Angevine
Coaching Search
I'm happy to report that, as of this morning, no other coaches have been fired. Wyoming's Heath Schroyer is the only DI head man to be sent packing in such a disrespectful – and, it should be said, damaging to the school's reputation – manner. I thought today I'd look and see who the locals are hoping to hear from regarding the vacancy.
Robert Gagliardi, who writes the Cowboy Chronicles blog for the Laramie Boomerang, lists former Kentucky coach Billy Gillispie (above), current Kansas assistant Joe Dooley, Florida assistant Larry Shyatt and BYU assistant Dave Rice. Let's rate the likelihood of each:
Billy Gillispie: Low
I firmly believe Billy Clyde will coach again, and probably do quite well, but this is not the job for him. Things went wrong for Gillispie – a native Texan -- the minute he stepped foot outside of his home state. Even a great recruiter is going to have difficulty selling the high plains experience to talented players. Gillispie seems tailor-made for C-USA, where image rehabilitation is all the rage.
Joe Dooley: Low
Slick-haired Dooley is Bill Self's top assistant, and as such, he can afford to wait for an offer from a front-running mid-major program. He was considered for several low-profile rebuilding jobs over the summer and chose to stay at KU. He's probably much better off waiting out the Jayhawks' tourney run and hoping for a shot at an established bracket buster.
Larry Shyatt: Medium
Bringing back a former head coach to the same job is not unheard of (see South Alabama's Ronnie Arrow) but it is incredibly rare. Shyatt left Wyoming on a high note in 1998 to take over for Rick Barnes at Clemson, and is now a highly valued assistant to Billy Donovan at Florida, but he is a little over a month away from his sixtieth birthday, and may be interested in returning to Laramie to finish out his career.
Dave Rice: Medium
This is another case of an assistant who might be better off waiting for a better gig. The factors in favor of jumping now include the fact that BYU is headed to the WCC next season, and the certainty that the Cougars have all eyes on them as the Jimmer Fredette era winds up. It could be tough to decide how best to use that mojo.
Interestingly enough, Rice was the only member of this short list who responded to Gagliardi's inquiries. His email was as noncommittal as you'd expect, but it was a response:


I was part of 2 interim staffs during my 11 years as an assistant at UNLV and so I understand that Coach Langley and his staff are working hard to help the players have a strong finish to their season. In my mind there is currently a staff in place at Wyoming. The players and staff don't need the distraction of coaching speculation. While I know that is inevitable, I have always made it a point to never comment on a job that is not available. Likewise my entire focus now is helping Coach Rose and our staff prepare our team to play TCU on Saturday.
Coach Langley is Frank Langley, who was named the interim coach when Schroyer was fired. Interim coaches rarely take over full-time, and the scenario that seems most likely is that Wyoming will court some rainmakers, though they will give Langley the courtesy interview. Obviously, nobody is going to express open interest in the job as long as there's basketball left to play, so the value of making the early move seems negligible, if it exists at all.

Obviously, I can't rank any current candidate as High probability. This is a tough job in a conference in flux, and a coach with juice isn't going to be thrilled at the notion of working for an employer who just pulled the rug out from under another member of the coaching fraternity. Someone will eventually take the job, but this has the potential to be an embarrassing, drawn-out process for the Cowboys brass if they don't act decisively.


Quotable Coaches



Today's quotes belong to the coaches who made a twisted mess out of the top 5 this week.
"We had time to work on things when Rob was injured. There really wasn't an adjustment. There was an adjustment last year because of the timing. As a coaching staff, we adjusted at the first practice. This is who we have. This is how we have to push forward."

-Matt Painter still has to downplay the impact of Robbie Hummel's season-ending injury in the wake of a win over No. 2 Ohio State
"No one ever asked him to play in the low post before he got here. He couldn't catch the ball last year. Last year we never passed it to him. He could be unguarded and nobody would pass him the ball. Now people are frustrated because he's not finishing. Well, that means that someone is throwing him the ball. That's because guys are starting to trust him and he's learning how to play in there."

-Frank Martin talks about sophomore Jordan Henriquez' sudden emergence in a huge upset of No. 1 Kansas
"My hope was that by March we'd have a dangerous, scrappy, opportunistic team that could beat anybody in the country if they didn't bring their 'A' game or if they overlooked us. It appears we've hit that in late January and February."

-Steve Lavin discusses his rapid turnaround of St. John's following an upset of No. 4 Pitt
"With us making only four 3s, I'd have said 'No way,' and I thought if it got out of the 50s, we'd be in trouble.''

-Nebraska coach Doc Sadler still can't believe his team's 70-67 home victory over No. 3 Texas
Photo: US Presswire