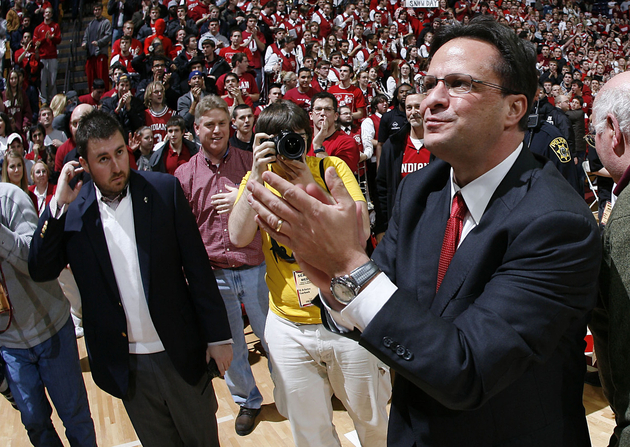 Posted by Eric Angevine

Tom Crean is annoyed. His rebuilding Indiana team has to play two games in rapid succession.
Jeff Rabjohns reported on tweets from the IU coach's Twitter account this afternoon
:
"I just heard the craziest thing. It must be Ashton Kutcher and his PUNKED show or a April Fools joke a few weeks early," Crean wrote on his Twitter account.

"I heard the Big Ten network is moving us to play at Illinois after we play Wisconsin at 9 o clock Thursday at 11 on Saturday. IN THE MORNING.

"There is no way that could be true is it? What was the 8 a.m. slot taken?

"I feel like we should jump in some vans, put the 8 track tapes in, get some cheese sandwiches and have a old school road trip."

"I am okay with 1 day in between games on occasion but 36 hours? In a rivalry game? That defies rationalization."
Of course, this is the type of schedule one must follow in the Big Ten and NCAA tournaments, though we'll spot him the complaint about travel time in-between.
What I'm most intrigued by is the notion of which 8-tracks Crean would spool on his old-school road trip. My parents had a nice collection of Eddie Rabbit, Neil Diamond and Dan Fogelberg cartage back when I was a kid (oh, and you'd better believe we had an AMC Pacer, my friends), but something about Crean just screams out Rush, or an endless loop of Stairway to Heaven.