Posted by Eric Angevine


One of the cable channels used to show Leave it to Beaver reruns in the morning, so I always ended up watching them as I ate my cereal and got ready to head off to school as a teen. I've probably seen every episode four times, so some of the lines are stuck in my head forever. I'm going to slightly alter one that was often
delivered by June Cleaver
to her TV husband:
"Ward, I'm worried about the Jimmer."
Why would I be worried? The Jimmer show rolls on. Am I not entertained?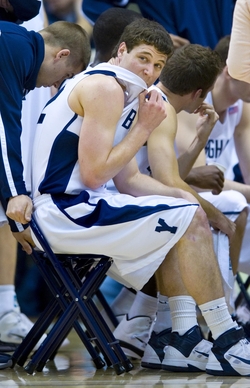 Yes, of course. Hoops fans fell in love with 33-point Jimmer (home win over Arizona), 47-point Jimmer (at Utah) and back-to-back-big-game Jimmer (42 at Colorado State, 43 at home to beat SDSU). In a subsequent loss at New Mexico, The Jimmer had a rather studly line of 32 points, 5 rebounds, 7 assists and 3 steals, but to no avail. Since then, he hasn't topped 30 points in a single game, and his average over the past five games is 25.2 ppg. Why, that's the sort of scoring a mere mortal can achieve.
To be clear, I think Jimmer's reduced scoring load is a good thing, because BYU is still winning. That signifies that the Cougars are becoming the more balanced team they'll need to be in the postseason. Fredette can easily Superman BYU through the MWC, but if his team is to live up to its hype in the Big Dance, his teammates must be prepared to play bigger roles, and actively seek to take the pressure off of their star.
Here's the good news on that front. After scoring just 6 points in the loss at The Pit, guard Jackson Emery is back on his game, averaging 14.4 points per game over the recent five-game stretch. In the same period, forward Brandon Davies has just notched the 10 ppg mark, though he's been wildly inconsistent, going from a 20 point game at Wyoming to a 2 point effort at home against Utah.
For the Jimmer Show to continue into the postseason, you'd like to see the 6-foot-9 Davies get a lock on the third scorer's role, but it's important to note that his rebounding has been key throughout the season, and that teammates tend to step in and score when he doesn't have the mojo. For instance, guard Charles Abouo and forward Stephen Rogers both got into double figures in a foul-plagued 4-point effort from Davies when UNLV came to town, and Abouo nearly out-Jimmered his teammate in a recent blowout of Utah, scoring 22 and nabbing 10 boards. I wouldn't exactly call the Cougars a deep team, but they have multiple scoring options in spite of the fact that they have one of the greatest individual scoring threats in the country at their disposal.
So, if we aren't worried about Jimmer's scoring, what exactly is the point of all this hand-wringing?
Turnovers.
In the past five games, the extra defensive attention paid to Fredette has not only lowered his scoring totals, but it has resulted in 24 turnovers credited to his account. That's on the other side of the ledger from just 20 assists in the same time period. His shooting has become inefficient in that handful of contests as well: 34/86 = 39.5 percent from the floor.
We can't lay all of this on Fredette's doorstep. Dave Rose is a smart coach, and he knows that over-reliance on one player is a bad deal, no matter how strong that player might be. Nobody wants to see Fredette lose his aggressiveness, but it's clear that he needs somewhere to go when his efforts are stymied.
BYU has a perfect run of tough games coming up that should allow Rose to fine-tune his team attack. Wednesday night is a home game against third-place Colorado State, followed by a road trip to San Diego State (Saturday 2/26, 2:00 p.m. ET, CBS) and a mid-week home game against the talented but disappointing New Mexico Lobos. If there is tinkering to be done, and a loss to be taken, let it be now, rather than later. Keeping the Jimmer Show on the air as long as possible this season will be a pleasure for fans of college basketball.