Posted by Eric Angevine
KU has plenty of point guard options, and that's a blessing.
However, at this late point in February, I'm sure Bill Self would rather know which one he'll be counting on to lead his team in the postseason. Right now, he can't know that.
We know that Tyshawn Taylor, the regular starter, played the most minutes of any Jayhawk before his latest indiscretion – 27.1 per game, to be exact. He also had a 1.7 to 1 assist to turnover ratio and a good defensive impact, with 1.2 steals per game. Most importantly, he had the speed that Bill Self craves.
So, if Taylor sits, where does Kansas go from here? Does Bill Self suddenly forgive all and bring Taylor back for the postseason run? Or has this opened the door for another of those weapons we touched on?
The number one option most fans would look to in this scenario is freshman Josh Selby. He has the speed of a Tyshawn Taylor, but combines it with superior shooting range. The only problem there is that Selby has been injured. He also sat out the first nine games of the season, and has never really found a rhythm. When he does play, it's as more of a combo guard than a pure point guard. His flashes of potential would probably warrant any kind of experiment Self might want to conduct, assuming his foot is up to the task.
The foot and its various accoutrements are what gave us a good look at our other intriguing point guard option. Blair Kerkhoff of the Kansas City Star told the story in today's recap of KU's decisive Big Monday win over Oklahoma State:
Josh Selby and Brady Morningstar also played at the point, and Selby was in the plan to start. But at the 3 p.m. shootaround, just before the team's live 10-minute scrimmage where the starting lineup is identified, Selby didn't have an insert he uses for the shoe of his injured foot. Selby couldn't practice without it, and the nod went to Johnson.

"We can't let him practice without it," Self said.
If you don't practice, you don't start, obviously.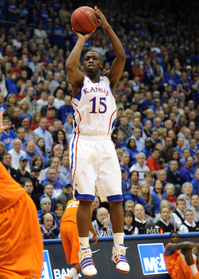 Which creates a bit of a conundrum, because sophomore Elijah Johnson (right), who has been something of an invisible man for KU up to this point, got the start and played very well. He had 15 points on 5-6 shooting, and most of that was an amazing 4-4 night from behind the arc. Johnson also played super-sticky defense on OSU's Keiton Paige, who had trouble even getting his hands on the ball, let alone shoot it. The diminutive sharpshooter ended his miserable evening 2-of-11 from the floor. As Gary Bedore of the Lawrence Journal-World points out, Johnson's defense on Jacob Pullen a week ago was more effective than anything Taylor threw at him.
As Kerkhoff noted, Brady Morningstar also plays some point, but it's pretty clear at this stage that a lack of speed is going to limit the senior to role player duty.
If I had to guess (and I think I do, since I asked the question), I would say that Johnson has earned his start as the nominal point, with Selby alongside and steady Tyrel Reed in the third slot. Morningstar will continue to come off the bench, and I suspect Taylor will – at least for a while – if and when he returns.
The truth is that KU has operated without a true point guard all season long. A Johnson/Selby backcourt is a pairing of two combo guards who can both score and pass. I discussed the KU guard rotation with Paul Biancardi – ESPN's recruiting director and former Horizon League coach of the year – and he told me at the time that it's fine to use such a rotation as long as one of the two athletes can act as the primary scoring option. Selby can do that.
If this was an isolated incident for Taylor, I'd say he might get his job back sooner rather than later. But at some point, I have to believe that his litany of poor off-court decisions are going to trump the fact that he makes pretty good on-court decisions. Not knowing what his latest indiscretion is, it's hard for me to guess, but this is the first one that's put him on the bench in street clothes, and I think that's at least a meaningful symbolic gesture. We saw Morningstar sit a whole semester last season for a DUI incident, but we've also seen Taylor play after being openly critical of his coach, so I'm pretty much in the weeds on where this might be going.
Kansas probably has the talent to reach the Sweet 16 no matter which starting backcourt they go with. For this team to reach its Final Four potential, however, the rotation must be settled before the end of the season.