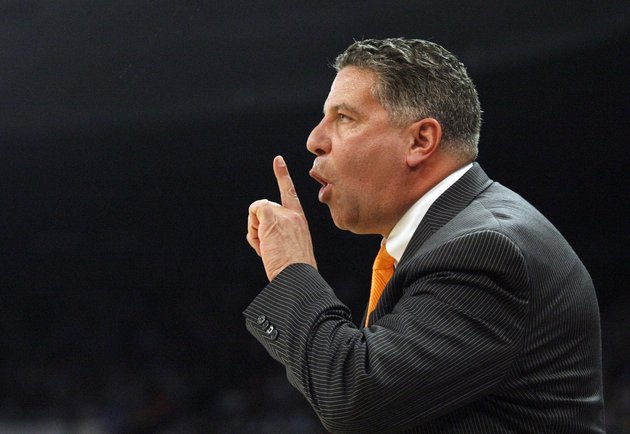 Posted by Matt Norlander
There's a
double helix of charges coming down
against the University of Tennessee today. The dreaded-but-unescapable Notice of Allegations, the NCAA's formal here's-what-you-did-wrong checklist,
has gone public.
If you'd like to read how the football program is affected, I encourage you to check out the
excellent work being done
at our sister blog.
As for the men's basketball program and Bruce Pearl, here are the official allegations.
Impermissible contact with prospective student-athletes resulting from a cumulative total of 96 impermissible phone calls over a 24-month period (Aug. 1, 2007 through July 29, 2009).
By the head men's basketball coach: impermissible contact with prospective student-athletes during an unofficial visit, acting contrary to the principles of ethical conduct, failure to promote an atmosphere of compliance, and failure to monitor the activities regarding compliance of all assistant coaches within the men's basketball program.
By the head men's basketball coach and associate head coach: impermissible contact with a prospective student-athlete at his high school.
By the three members of the men's basketball assistant coaching staff: failure to furnish full and complete information relevant to the investigation.
Tennessee has until May 21 to rebut the allegations. UConn did this, rather intensely and defiantly, and look where it got them (a less punishment than many wanted/expected). The most critical thing to keep in mind here: Everything that the NCAA has now put out, Tennessee already knew. There is no shell-shock in Knoxville today. Some months back,
when Pearl's lying and shame became known,
you can best believe he got in a room with the most important people at the University of Tennessee and was forced to confess all his sins, lest they fire him before the 2010-11 season began.
Since he's done that, he's been kept on the job. An eight-game SEC suspension, handed down by the commission of the conference, didn't stop Tennessee from keeping Pearl around. This is merely more metaphorical water coming onto the boat, and AD Mike Hamilton will do his best to get the buckets out for the short-term.
And Pearl's not going to lose his job unless a major punishment comes from the NCAA later this year.
Going forward, here are the three big events we're waiting on:
Tennessee to make its case against the NCAA's allegations, which it must do by May 21. Expect a rebuttal.
Pearl and Co. will be called before the Committee on Infractions on June 10 and 11 of this year, when a final airing of grievances will be made on behalf of both parties. Expect Pearl to show a humble attitude that Jim Calhoun and UConn left behind long ago. Being caught in a litany of lies tends to get a guy grounded.
Hopefully (and this didn't happen so swiftly with UConn) by the end of August, we'll have a verdict on the punishment Tennessee and Pearl will be given. From there, we'll truly know if Pearl will stay on as head coach at Tennessee.
For now, it's more public shame and embarrassment. More bad talk of Pearl at a time when college basketball orbits into the embraceable heat of the media's sunlight. But this is no punishment. This is just airing out the dirty laundry and letting the onlookers leer and gawk once again, allowing all of us to question just how the hell Pearl's been able to hold on to his job.
Photo: US PRESSWIRE