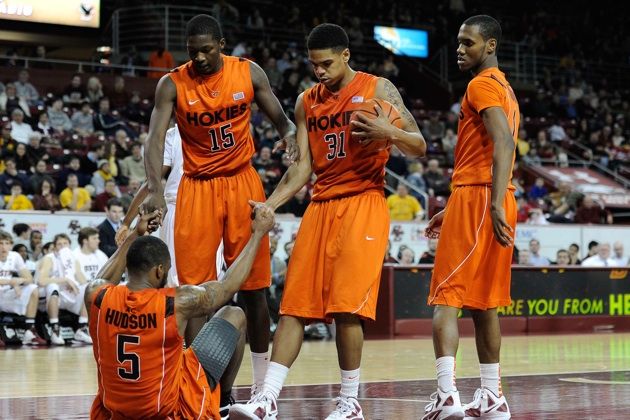 Posted by Matt Norlander
I do not come with news to antagonize you, Tech fans.
But a minor news flash to Hokies supporters, and to Dick Vitale, who proclaimed to all listening that Virginia Tech is now, suddenly, a "lock" for an at-large bid: the season's not over, and there's still work to be done.
More than any other fan base, Virginia Tech's should know to be apprehensive at this moment. Enjoy it, but don't puff out your chests too far.
I know, who outside of Durham didn't love that
full-on court-storm
tonight?
An upset of No. 1
in a February Saturday prime time game is of course fanfreakingtastic. But let's not let emotions take over here. It was far and away Va. Tech's best win of its season,
which is more of an indictment
than it looks to be on the surface.
Before tonight, the best wins Seth Greenberg's team could boast about: a sweep of Maryland, who hasn't done jack against anybody. Toss in the wins against Penn State, Oklahoma State and Florida State, and yeah, with this upset of Duke, it's a ledger that now looks good against a lot of teams.
But the Hokies have to avoid the bad loss late, which is something that's plagued them three straight years. Beat fellow bubble brethren Boston College at home Wednesday, then go on the road and take care of Clemson next Saturday. Finish at 21-8 overall and 11-6 in the conference and no first-round loss in the ACC tournament will kick Virginia Tech out of the field of 68. I can promise that.
I also promise Virginia Tech isn't a lock as of the end of February.
As for the game, the Hokies as much won it as Duke peed it away down its leg in the final minute. Some hideous play from the Devils down the stretch, a sequence of events that reads like this on the play-by-play chart. (I edited out the inconsequential or positive Virginia Tech plays.)
| | | | |
| --- | --- | --- | --- |
| 31.0 | 59-62 | DUKE | Kyle Singler missed 3-pt. Jump Shot |
| 30.0 | | DUKE | Personal foul on Andre Dawkins |
| 25.0 | 59-62 | DUKE | Nolan Smith missed Free Throw |
| 25.0 | | DUKE | Offensive Rebound by Mason 25.0 |
| 23.0 | | VATECH | Personal foul on Jeff Allen |
| 23.0 | 60-62 | DUKE | Mason Plumlee made 1st of 2 Free Throws |
| 23.0 | 60-62 | DUKE | Mason Plumlee missed 2nd of 2 Free Throws |
| 23.0 | | VATECH | Defensive Rebound by Jeff 23.0 |
| 21.0 | | DUKE | Personal foul on Kyle Singler |
| 1.0 | | DUKE | Bad pass turnover on Seth Curry |
| 1.0 | | DUKE | Personal foul on Seth Curry |
"What's up with Singler?" is something that will be talked about to its beating-a-dead-horse breaking point this weak in the Triangle. Another issue for another post here, certainly.
The secondary thing to take away from this game would be the fact we've had another weekend with top teams tumbling. Four of the top 10 lost, and Duke became the third top-five team to drop Saturday, along with San Diego State and Texas. Arizona was the other highly ranked group to get cut down to size.
The third is the topic of one seeds, and does Duke now fall outside the top four teams. Ohio State, Kansas, Pitt, as of tonight, are the no-brainers. Duke and BYU is the battle. It's a fun debate for now, but both have the conference tournaments to settle it, with a couple others still giving chase, too. That's all
addressed here
and
here
and
here.
We've got you covered, no doubt. Hope you've enjoyed your Saturday slate of hoops on the tube and here at the blog.
Good God, this sport is fantastic.
Photo: AP