Posted by Jeff Borzello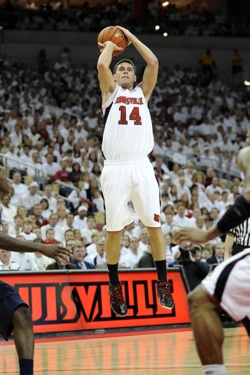 After Pittsburgh's Brad Wanamaker hit a shot with 17 seconds left in regulation to forge a tie against Louisville, followed by Wanamaker and Gary McGhee both coming up with blocks on the ensuing defensive possession, many people thought the Cardinals would fold in overtime to a more experienced Pittsburgh bunch.
Think again.
In the extra session, Louisville scored the first four points en route to a 62-59 victory. In fact, if not for a moronic cheerleader earning a technical foul, the Cardinals would have held Pittsburgh to just one point in overtime.
The Cardinals forced three turnovers and allowed the Panthers to attempt just one shot from the field in the first four minutes of overtime.
There's only one senior on Louisville's roster, but the Cardinals demonstrated poise normally reserved for a team like Pittsburgh. Moreover, junior Terrence Jennings and senior Preston Knowles struggled throughout the game, combining for 11 points on 4-of-19 shooting.
The key for Louisville was its perimeter trio of sophomores Peyton Siva and Mike Marra, and junior Kyle Kuric. Kuric had 12 points, including a 3-pointer and clinching dunk in overtime; Marra went for 11 points, knocking down timely shots; and Siva finished with 14 points and three assists.
Heading into March, the Cardinals are starting to turn some of their detractors into believers. On short notice, they are going to be a difficult team to face, due to their pressure defense and half-court zone defense. Offensively, they are nearly impossible to stop when their 3-pointers are falling. Additionally, Siva is a player who can create shots at the end of games – something that every successful NCAA Tournament needs.
Most importantly, their young players are developing into battle-tested players who show composure when it matters.
Photo: US Presswire