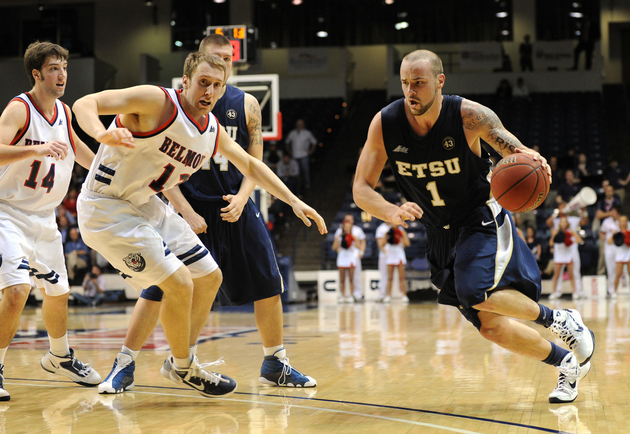 Posted by Eric Angevine

We know the Atlantic Sun conference tournament starts on Wednesday. We know that the Belmont Bruins, one of the most dominant regular-season champions in any conference in America, will be the No. 1 seed. We also know that East Tennessee State will be the No. 2 seed. Both will play on the first day of the tourney.
What we don't know yet, even at this late date, is who they will be playing.
The A-Sun only lets the top eight regular-season finishers into the postseason, and the current standings look like this:
1. Belmont (19-1)
2. ETSU (16-4)
3. Jacksonville (13-7)
4. Lipscomb (12-8)
5. Mercer (11-9)
6. North Florida (10-10)
7. Florida Gulf Coast (6-13)
8. Campbell (6-14)
9. Kennesaw State (6-14)
10. Stetson (6-14)
11. USC Upstate (4-15)
Looking at that, you'd think it would be Florida Gulf Coast vs. ETSU, and some sort of tie-breaker to decide which 6-14 dog gets another chance to be eaten by a bear. But it's not that easy. Sherri Booker, the A-Sun's Senior Associate Commissioner for Championships, explained the situation to me via email this morning:
We had a men's and women's contest (FGCU at USC Upstate doubleheader) that was postponed in January due to the Upstate campus being closed due to over 8" of snow. The games are being played today (women-5:00 ET; men-7:30 ET). Based on the outcome of the men's contest, we will be able to finalize the men's #7 and #8 seed later tonight and will post it on the A-Sun website. The women's seeding have been finalized.

With an FGCU win, Campbell will secure the No. 7 seed and Kennesaw State will secure the No. 8 seed. With a USC Upstate win, Kennesaw State will secure the No. 7 seed and Campbell will secure the No. 8 seed.
There's actually a little more to this byzantine situation. FGC would have been the No. 7 team, except that the Eagles are ineligible for postseason play due to their fairly recent ascension to D-I status. The same is true of Upstate. It's like a play-in game by proxy.
So, with the league tourney just two days away, two ineligible teams playing a makeup game will determine the first-round matchups. Even more ironcially, a conference named for its preponderance of southern sunshine has been put in this unusual situation by a completely atypical dumping of snow.
Yet another reason to enjoy every minute of conference tournament time.
Photo: US Presswire