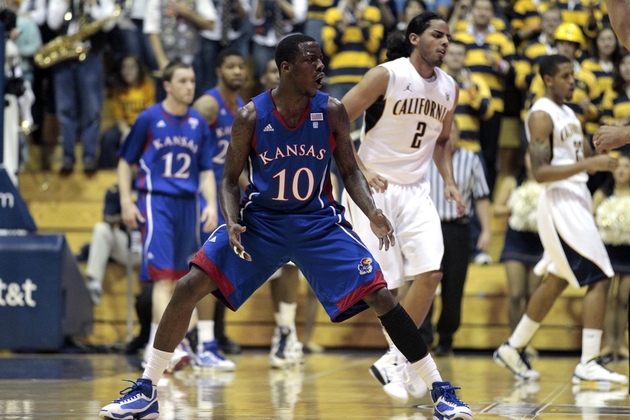 Posted by Eric Angevine


I actually try really hard not to be cynical about these things, but is it a coincidence that Bill Self has opted to get Tyshawn Taylor off the bench and back into uniform in time for tonight's visit from Texas A&M? As KU's final home stand of the year, the game will be a showcase for Bill Self's seniors. Tradition dictates that Brady Morningstar, Tyrel Reed and Mario Little will get at least a token start, though each of the three has started on his own merits in the past.
Taylor is a junior, but there has been some talk in the past of his jumping to the pros before his senior season. His reputation for off-court shenanigans (though this latest may actually have occurred
more or less on the court
, in a perverse sort of way) may make that a pretty dicey situation, though. Nonetheless, this could, conceivably, be the final home game for Taylor and fellow junior Marcus Morris..
Taylor won't start, but he will likely play some. That could be part sentimental, as outlined above. It could, in my more cynical heart, also mean that Bill Self wants every weapon in the quiver as he finishes out his quest for an unprecedented seventh straight Big 12 title and a potential No. 1 seed in the NCAA tournament. Playing A&M at home will make that task difficult enough, but a season-ending game at high-pressure Missouri will make Taylor's speedy presence even more crucial.
Since tonight is Senior Night at KU, the true resolution of the Kansas point guard drama will likely be suspended. Normal rules of starting and substitution do not apply on the
most emotional of nights in Allen Field House
.
In all likelihood, we won't see this team's true postseason lineup until Saturday, when Bill Self will honestly have to juggle Elijah Johnson, Taylor, and Morningstar in his season finale.
Photo: US Presswire