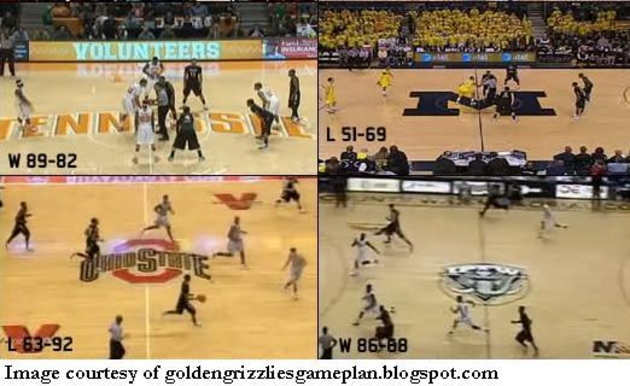 Posted by Eric Angevine

Ever since I started writing exclusively about college basketball, I've chosen to look at the big picture, which makes for difficult viewing when you have 345 teams in your field of vision. That's why I've always loved those who choose a team or a conference and dig in for the great moments and details the rest of us might miss.
Corey at
Golden Grizzlies Gameplan
is one such blogger. He's been writing about Oakland of the Summit League since 2009, which means he was giving props to this team long before they became the 22-9, 17-1 road warriors who took down Tennessee at Thompson-Boling. That was just one victory in an exceedingly brutal trip through the power conferences that may have given the Griz a bit of an edge in toughness that will come in handy in the postseason.
Corey has collected images from
20 tip-offs
that encapsulate all the floors the Grizzlies played on this season. It's a great way to see just how tough their non-conference road trip was and how that no doubt draining experience got them ready to dominate in their own league. The image above is just a detail from the full-sized tapestry on the Gameplan home page. Head over and check it out, and you can say you knew them when as they screw up your office mates' brackets.
Photo: Golden Grizzlies Gameplan