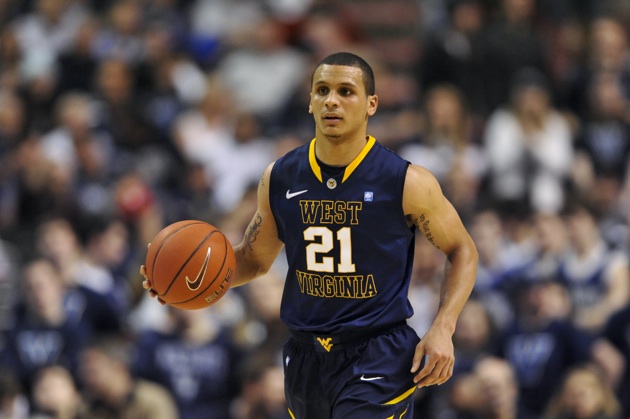 Posted by Jeff Borzello
In two of the past three NCAA Tournaments, West Virginia has received an unexpected boost from Joe Mazzulla.
In the 2008 Sweet 16, Mazzulla went for 13 points, 11 rebounds and eight assists in a win over Duke. In last season's Elite Eight contest against Kentucky, Mazzulla again came through when it counted, finishing with 17 points in the victory.
He might be priming himself for another March surprise.
In tonight's 65-56 victory over Connecticut, Mazzulla totaled 18 points, four rebounds and five assists and helped the Mountaineers hold Kemba Walker to an 8-for-23 shooting night.
Mazzulla had nine points in the first 6:37 of the game, going for 14 in the first half. He also knocked down a key 3-pointer right before halftime to give West Virginia a two-point lead heading into the break.
For a team that has not been as tough as previous Bob Huggins-coached clubs, Mazzulla provides a physical presence at the point guard position. He is not afraid to go into the lane against bigger defenders and is a very good rebounder for someone his size. When he starts knocking down outside shots and getting transition opportunities, West Virginia is a much more dangerous team.
Even before tonight, he had started picking up his play lately. He dished out nine assists in the weekend win over Rutgers, and totaled 16 points, five rebounds and seven assists in a home win over Notre Dame two weeks ago. In fact, in the majority of the Mountaineers' biggest wins this season, Mazzulla has been a key factor.
Against Cincinnati earlier this season, Mazzulla finished with 16 points, seven rebounds and eight assists. In the big non-conference win over Purdue, he had 10 points, four boards and four assists.
Mazzulla is not going to be the team's go-to-guy in the postseason. Huggins has plenty of scorers, both inside and outside, that can do damage when it counts.
If West Virginia is to make another deep run, though, Mazzulla will find a way to make himself a factor. He has done it before, and it looks like he is readying himself for another surprising NCAA Tournament performance.
Photo: US Presswire