The Southern Conference was loaded at the top of the conference this season, with five teams finishing at least 12-6 in league play. Charleston (22-9, 14-4 in SoCon) and Wofford (18-12, 14-4) shared the regular-season title, as Charleston lost its final two games of the season to fall back into a tie with Wofford. However, the Cougars did beat the Terriers twice, giving them the tie-breaker. Furman (20-9, 12-6) got off to a hot start but faded down the stretch.
Over in the North division, Western Carolina (17-14, 12-6) and Chattanooga (16-15, 12-6) split the title. Western Carolina won eight of its final nine games, including a victory over Charleston in the finale, to forge a tie with the Mocs, who lost five of their last seven overall. Chattanooga will host the tournament.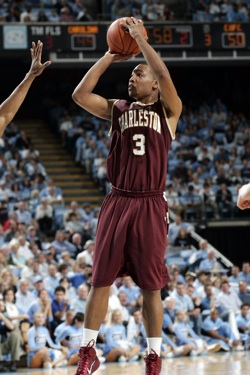 The two favorites heading into the tournament are, not surprisingly, Charleston and Wofford. Charleston had close losses against Maryland, North Carolina and Clemson during the non-conference season, and also beat Tennessee on the road. The Cougars have the league's best player in Andrew Goudelock, who had four 30-plus performances this season. They miss big man Jeremy Simmons, who is out indefinitely while he recovers from a blood clot in his arm. Wofford is riding a five-game winning streak, including road blowouts over Chattanooga and Furman to end the season. Noah Dahlman, an ultra-productive forward who dominates the paint, leads the defending champions. Cameron Rundles and Jamar Diggs provide balance on the perimeter.
Western Carolina is one of the hottest teams in the conference, playing its best basketball down the stretch. The Catamounts are led by versatile Mike Williams, who is averaging 17.4 points in the last nine games. Furman has all-conference forward Amu Saaka, while Chattanooga is the host and is led by former Georgetown transfer Omar Wattad.
Appalachian State (15-14, 10-8) won seven of its final eight games, and has arguably the most explosive scoring duo in the conference in guard Donald Sims and forward Omar Carter. In late January, Davidson (17-13, 10-8) sat at 2-7 in the conference. Since then, the Wildcats have gone 9-1, a record that includes wins over Charleston and Wofford. Bob McKillop has a balanced unit, headed by J.P. Kuhlman.
Southern Conference tournament bracket
Top Three Players:
1. Andrew Goudelock, Charleston
2. Noah Dahlman, Wofford
3. Donald Sims, Appalachian State
Conference RPI: 19
KenPom.com Conference Ranking: 21
Sagarin Conference Ranking: 20
NCAA Tournament Locks:
None
NCAA Bubble Teams:
None
Last NCAA Tournament Appearance
Appalachian State:

2000 (lost to Ohio State, first round)

Charleston:

1999 (lost to Tulsa, first round)

Chattanooga:

2009 (lost to Connecticut, first round)

The Citadel:

0 NCAA appearances

Davidson:

2008 (lost to Kansas, Elite Eight)

Elon:

0 NCAA appearances

Furman:

1980 (lost to Tennessee, first round)

Georgia Southern:

1992 (lost to Oklahoma, first round)

NC-Greensboro:

2001 (lost to Stanford, first round)

Samford:

2000 (lost to Syracuse, first round)

Western Carolina:

1996 (lost to Purdue, first round)

Wofford:

2010 (lost to Wisconsin, first round)
Photo: US Presswire
Posted by Jeff Borzello