Posted by Jeff Borzello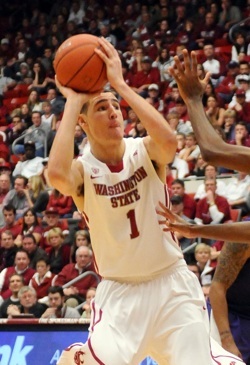 Washington State's win over USC Thursday night might have boosted the Cougars into the at-large hunt – but they now have bigger problems to worry about.
Klay Thompson, the team's leading scorer, was arrested for investigation of marijuana possession during a traffic stop last night.
If that's not bad enough, his own father is throwing him under the metaphorical bus. The Seattle Times quoted retired NBA legend Mychal Thompson publicly reading his son the riot act today:
"I'm so ticked off at him, I told him he needs to think about getting his degree and finishing up," said the senior Thompson, who added he believes Klay has more than a year of work to graduate. " 'You've got a lot of amends to make.' That's what I think. He's supposed to be the leader of this team, and they depend on him, and he does something stupid like this. I told him, 'Doing something like this shows how irresponsible you are.'

"There's no excuse for it."
Thompson was pulled over at 10:56 p.m. – about two hours after he scored 22 points to lead Washington to an 88-77 win over the Trojans.
According to reports, Thompson was pulled over because a headlight on his SUV was out.
"Pullman Police Commander Chris Tennant said the officer smelled marijuana and that Thompson was the only one in the vehicle, but the WSU junior denied having any drugs.

"Thompson was arrested, and officers found a small amount of marijuana in the SUV when they searched the vehicle after obtaining a search warrant."
He was cited and released, and will appear in court in four weeks.
Thompson, a 6-foot-6 shooting guard from California, is averaging 21.4 points, 5.1 rebounds and 4.0 assists this season. He is one of the top shooters in the country, making better than 41 percent of his 3-point attempts.
This is the second time a Washington State player has gotten in trouble with marijuana this season, as starting point guard Reggie Moore was arrested on December 11 for possession of marijuana and unlawful possession of drug paraphernalia. Moore was "suspended indefinitely," missing a road contest at Stanford before returning the next game.
Moore also might miss the Cougars' next game, as he landed awkwardly after coming down on a defender's foot early in last night's game. He did not return to the game, appearing with his foot in a walking boot.
If Thompson misses any time,expect sixth man Faisal Aden to start in his place. Aden is the team's second-leading scorer, averaging 12.9 points per game. He averaged 17.3 points in the eight games he started this season. Last night, with Moore hobbled, Aden put up 20 points.
With Moore and Thompson both questionable for tomorrow's game against UCLA, it will be up to Aden and DeAngelo Casto, the big man who is averaging 17.7 points in his last six games, to provide most of the offensive production.
Washington State is still on the outside looking in, but a win against the Bruins tomorrow could put the Cougars in the picture. They already own a sweep of Washington, as well as wins over bubble teams Gonzaga and Baylor.
Ironically, last night's game gave Washington State a chance at the NCAA Tournament, but last night's overall events might also end the Cougars' chances.
Photo: US Presswire