The Sun Belt Conference usually features a wide-open race with plenty of contenders, and this season was no different for the most part. However, the threats came and went, with second-place a revolving door occupied by a handful of different teams. The only constant during the entire campaign was Florida Atlantic (21-9, 13-3 in the Sun Belt), which started the conference season 8-0 and coasted to a regular-season title.
The two teams that split the West division title, Arkansas State (17-14, 11-5) and Louisiana-Lafayette (14-14, 11-5) both started slowly. Arkansas State was 4-4 before winning seven of its final eight league games, while Lafayette bounced back from a 1-5 start to win its last 11 overall games heading into the conference tournament. Middle Tennessee (15-15, 10-6) lost three of its final four and Denver (13-16, 9-7) dropped seven of its last 10.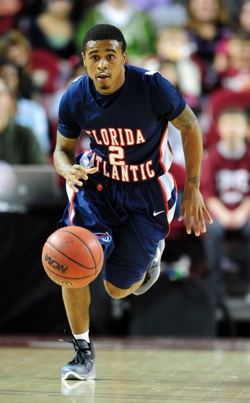 Due to its consistency, Florida Atlantic is the frontrunner for the league tournament. The Owls have won 18 of their last 23, jumpstarted by back-to-back wins over Mississippi State and South Florida in the non-conference season. They take care of the ball offensively, and guard the rim at the other end. Greg Gantt and Ray Taylor form a very solid backcourt, while Brett Royster is the league's best defender. This is a balanced outfit with an experienced coach in Mike Jarvis.
Winners of 11 in a row, it's hard to argue with Lafayette as the biggest threat. The Leopards get up and down the floor, aggressively driving to the basket and attacking the offensive glass. They have several match-up problems on the roster, led by all-conference guard J.J. Thomas. Arkansas State is also playing well right now. The Red Wolves rebound the ball very well and have a balanced offensive group. Martavius Adams is the go-to-guy, but he struggled down the stretch. Donald Boone picked up the slack, averaging 13.0 points in his last eight games.
There are plenty of sleepers lurking in the weeds. Western Kentucky (14-15, 8-8) has a dominant frontcourt, led by all-conference forwards Sergio Kerusch and Steffphon Pettigrew, and former Oklahoma transfer Juan Pattillo. The three combine to average 42.8 points and 22.7 rebounds per game. North Texas (19-10, 8-8) was the preseason favorite, as the Mean Green have a very good backcourt trio led by Tristan Thompson, and a double-double machine down low in George Odufuwa.
Sun Belt Conference Tournament Bracket
Top Three Players:
1. Solomon Bozeman, Arkansas-Little Rock
2. Tristan Thompson, North Texas
3. Sergio Kerusch, Western Kentucky
Conference RPI: 23

KenPom.com Conference Ranking: 27

Sagarin Conference Ranking: 24
NCAA Tournament Locks:
None
NCAA Bubble Teams:
None
Last NCAA Tournament Appearance
Arkansas-Little Rock

: 1990 (lost to UNLV, first round)

Arkansas State

: 1999 (lost to Utah, first round)

Denver

: 0 NCAA appearances

Florida Atlantic

: 2002 (lost to Alabama, first round)

Florida International

: 1995 (lost to UCLA, first round)

Louisiana-Lafayette

: 2005 (lost to Louisville, first round)

Louisiana-Monroe

: 1996 (lost to Wake Forest, first round)

Middle Tennessee

: 1989 (lost to Virginia, second round)

North Texas

: 2010 (lost to Kansas State, first round)

South Alabama

: 2008 (lost to Butler, first round)

Troy

: 2003 (lost to Xavier, first round)

Western Kentucky

: 2009 (lost to Gonzaga, second round)
Photo: US Presswire
Posted by Jeff Borzello