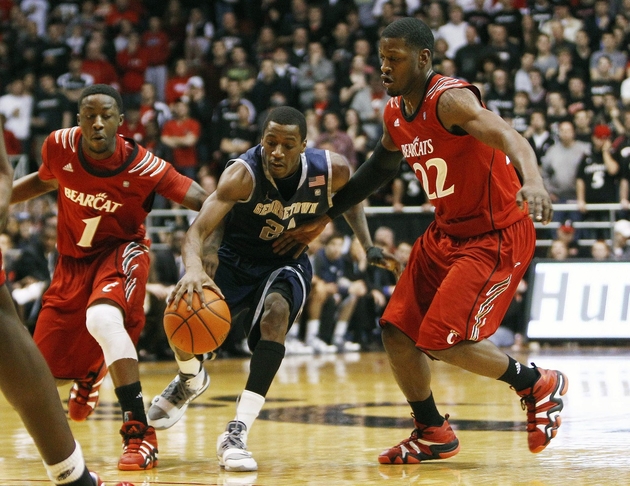 Posted by Eric Angevine

Cincinnati is one of those teams that nobody really expects much from, even though
Jerry Palm had them listed as a 6 seed in the NCAA bracket predictions this morning
. Despite a 10-7 record in the tough Big East, the Bearcats carry the 'soft' tag because of their admittedly weak non-conference schedule, during which they faced exactly one team that is currently a lock for the Big Dance - intra-city rival Xavier, who they beat 66-46.
The Bearcats have held five opponents below 50 points this season, but only the Hoyas have fallen victim to that embarassment twice. Cincy did it to Georgetown in DC on February 23, winning 58-46, then proved that result was no fluke by running the Hoyas off the floor at Fifth Third Arena today, laying down a lopsided 69-47 win.
That the Bearcats can defend should come as no shock to anyone. Per kenpom.com, Cincy is 12th in the nation in defensive efficiency, second in the Big East to only Louisville. Once they shut Georgetown down, however, the offense came alive, putting up 39 points in the second half. The combination of Yancy Gates inside (13 points, 10-10 FT) and Dion Dixon outside (14 points, 2-5 from deep, 6-8 FT) became lethally efficient.
Did the Bearcats benefit from the absence of Chris Wright? Yes. Was their non-conference schedule too lenient? Absolutely. But Chris Mack's squad beat the teams they were supposed to beat, and won a few in which they seemed overmatched. They've found their rhythm, with the starters locked in on their roles night after night, and Sean Kilpatrick coming off the bench to ever-more-positive results. The redshirt freshman scored a hyper-efficient 13 points in 24 minutes.
Cincy has earned a first-round bye in the Big East tournament with today's win. The team owns victories over St. John's and Louisville, and a sweep of Georgetown. If the Bearcats continue to lock down on defense, and get the ball inside from every position, they could be the dangerous team that nobody will enjoy playing in the postseason.
Photo: US Presswire