Heading into the Big South tournament, UNC-Asheville was playing arguably the best basketball in the league. The Bulldogs proved that over the course of three games, culminating in a 60-47 victory over top-seeded Coastal Carolina on the Chanticleers' homecourt. Forward John Williams played one of his best games of the season, posting 10 points, nine rebounds and six blocks. Head coach Eddie Biedenbach, the conference's all-time winningest head coach, will be in the NCAA Tournament for the second time since coming to Asheville 15 years ago.
UNC-Asheville, one of the many branches in the University of North Carolina system, has an undergraduate enrollment of fewer than 3,500. The Bulldogs have won four Big South conference titles, reaching the NCAA Tournament once, in 2003, when they finished 15-17 but won the conference tournament. They went to the NIT in 2008, after a 23-win season. Asheville has had 23 winning seasons since starting its program in 1964.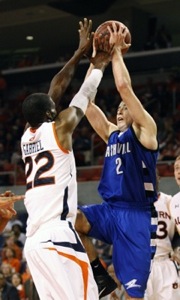 Player to know: Matt Dickey. Although Dickey was inconsistent towards the end of the season, he is capable of carrying the Bulldogs. He scored 29 points in the tournament opener against Charleston Southern, then followed it with 18 points, six rebounds and six assists in the semifinals. On the season, Dickey averaged 15.5 points, 3.7 rebounds and 3.4 assists.
The Vitals:
Record: 19-13, 11-7 Big South
Team colors: Royal blue and white
We're thinking: 16-seed
KenPom ranking: 150
RPI: 176
Best win: Coastal Carolina, twice (28-5)
Worst loss: USC-Upstate (5-25)
Notable stat: The Bulldogs rank ninth in the country in steals per game, racking up 9.3 per game.
Most recent tournament history: 2003. Defeated Texas Southern in the opening-round game, lost to Texas in the first round.
Photo: US Presswire
Posted by Jeff Borzello