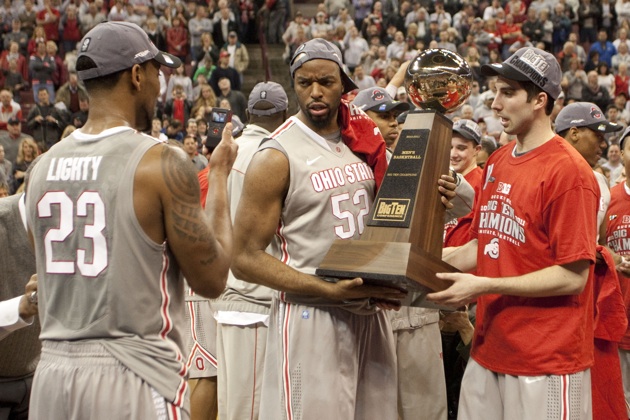 Posted by Jeff Borzello
We've all heard the same thing this season: there are no "great" teams in college basketball, with the No. 1 ranking a revolving door and no one team separating itself from the rest of the pack.
While that may still be the case, we certainly have a favorite heading into the NCAA Tournament.
Ohio State proved on Sunday it is the team to beat right now, taking apart No. 10 Wisconsin in a dominant 93-65 victory that gave the Buckeyes the Big Ten title. Theyavenged an earlier 71-67 loss to the Badgers, a game that sprouted some bad blood between the two clubs.
After that contest, Ohio State forward Jared Sullinger said a Wisconsin fan spit in his face, an allegation to which Wisconsin coach Bo Ryan responded, "We won the game. Deal with it." The Buckeyes wanted revenge from the opening tip, distributing towels to fans that read "Deal With It" and showing a pregame video with the same motto.
Fueled by seven points from Jon Diebler in a span of 49 seconds, Ohio State took a 22-15 lead and never looked back. The closest Wisconsin got in the second half was 59-48 with 12:48 remaining, but the Buckeyes responded with a 10-0 run to put the game out of reach.
Diebler knocked down seven 3-pointers, finishing with 27 points, six rebounds and four assists, while Jared Sullinger dominated the paint with 22 points and eight boards. Freshman point guard Aaron Craft dished out six assists and held Jordan Taylor to a 2-for-9 shooting performance.
As a team, Ohio State shot an unbelievable 93.3 percent from 3-point range, going 14-for-15 from behind the arc.
When the Buckeyes are playing their best, there's not a team in the country that can beat them. Their ceiling is simply higher than the ceiling of the rest of the national title contenders.
Sullinger is the nation's most dominant inside player; Diebler might be the most dangerous 3-point shooter in the country; Craft provides defense and ball-handling off the bench; David Lighty is the arguably the best defender in America and the quintessential "glue guy"; and William Buford is lethal from mid-range and a future NBA player. Throw in Dallas Lauderdale's defense and rebounding, and this team has everything a champion needs.
Looking for weaknesses? Good luck. Ohio State is the nation's most efficient team according to kenpom.com. The Buckeyes take care of the ball offensively and can hurt you inside and out. Defensively, they force turnovers as well as anyone in the country, but also have the best foul rate in the country.
Ohio State isn't perfect – no one in college basketball is this season.
But heading into the postseason, the Buckeyes are clearly the favorite to cut down the nets in Houston.
Photo: US Presswire