Way out west, the seeding has held true to form. The Big Sky tournament semifinals match No. 1 seed Northern Colorado (19-10, 13-3) with No. 4 Northern Arizona (19-11, 9-7), while No. 2 Montana (20-9, 12-4) will get another shot at No. 3 Weber State (18-11, 11-5). The semifinals and final will all be played at Northern Colorado's Butler-Hancock Athletic Center, starting Tuesday, March 8.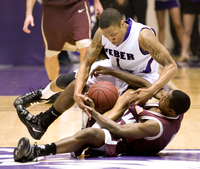 As the two top seeds, NoCo and Montana have yet to play a tourney game. They have been rewarded with the extra rest that a first-round bye imparts, and will get their feet wet on Tuesday.
Weber State got to this point by defeating the league's upset kings, the Eastern Washington Eagles, in a Saturday quarterfinal. EWU had almost single-handedly set the postseason seedings by closing out wins over Montana and Weber State to finish the regular season, and had their eye on doing the same to the Wildcats in the tournament. The Eagles ran up a 15-point advantage on Weber State that lasted into the second half, before junior forward Kyle Bullinger got on his horse, finishing with 26 points, 9 rebounds, 4 assists and 2 steals to advance his team one step closer to a hoped-for Big Dance invitation.
Northern Arizona's road to the semis was eerily similar, as the Lumberjacks overcame a 16-point deficit to Montana State thanks to the heroics of two high-scoring players. Guard Cameron Jones scored 27, and reserve Eric Platt added 20, including a late game go-ahead three pointer that secured the eventual win.
In the regular season, Northern Colorado defeated the Lumberjacks by ten on the road and just one at home. Montana split the season series with Weber State, also experiencing success away from home.
Players to watch:


Devon Beitzel, 6-foot-1 senior guard, Northern Colorado
Neal Kingman, 6-7 senior forward, Northern Colorado
Brian Qvale, 6-11 senior center, Montana
Will Cherry, 6-1 sophomore guard, Montana
Kyle Bullinger, 6-6 junior forward, Weber State
Lindsey Hughey, 6-3 senior guard, Weber State
Cameron Jones, 6-4 senior guard, Northern Arizona
Stallon Saldivar, 6-1 sophomore guard, Northern Arizona
Big Sky tournament bracket
Other conference tournaments

Photo: US Presswire

Postedy by Eric Angevine