With all the upsets in conference tournaments this season, the Southern Conference's championship game will feature the game everyone wanted to see: Charleston vs. Wofford (9 p.m., ESPN2).
Charleston (24-9, 14-4) received the top seed in the conference tournament despite losing its final two games of the season. The Cougars started conference play with a 14-2 record, including two victories over Wofford. They have bounced back in the conference tournament, dominating Elon in the opener and then coming back and defeating Furman.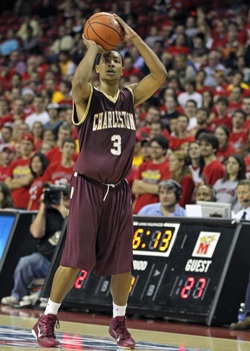 Andrew Goudelock leads the way for the Cougars. One of the best scorers in the country, Goudelock has had five 30-point games this season, including 31 in the semifinals against Furman (although it took him 28 shots to get there). Donavan Monroe has stepped up his production since big man Jeremy Simmons got hurt; Monroe has posted double-figures in eight of his last 10 games. Willis Hall and Trent Wiedeman have both shown flashes of their potential in the frontcourt.
Wofford (20-12, 14-4) is the defending champion, losing to Wisconsin in the first round of the NCAA Tournament last season. The Terriers were up and down for much of the campaign, but finished strong, winning their final five games, including road contests at Chattanooga and Furman to end the season. They've handled Appalachian State and Western Carolina with relative ease in the tourney.
The headliner for Wofford is forward Noah Dahlman, an extremely productive post player who scored in double-figures every game this season and is one of the most efficient players in the country. He has averaged 23.5 points and 10.0 rebounds in two games against Charleston this year. Tim Johnson is a rebounding machine next to Dahlman. On the perimeter, Cameron Rundles and Jamar Diggs provide balance. Both players are rolling to end the season, with Rundles averaging 15.8 points in the last nine games.
This will be a contrast of styles, as Charleston likes to get out and shoot transition 3-pointers and Wofford would prefer a half-court game in which the Terriers can use their inside advantage. With Simmons out recovering from a blood clot, the Cougars could struggle to defend Dahlman on the interior. Charleston is a poor defensive rebounding team, while Wofford gets plenty of second chances. On the other side, Wofford needs to guard the perimeter – the Cougars are prolific from deep.
Can Charleston knock off Wofford for the third time this season? In the two previous wins, Simmons played a significant role in the paint; he will not be suiting up for the Cougars on Monday night. Therefore, it remains to be seen if Charleston will be able to slow down Dahlman down low. If Wofford can make it a half-court battle, the Terriers should prevail and get back to the NCAA Tournament.
Photo: US Presswire
Posted by Jeff Borzello