After achieving just one winning record in its first 14 years as a Division I program, Wofford is now heading to the NCAA tournament for the second straight season. The Terriers defeated regular-season champion Charleston in the championship, 77-67. Noah Dahlman went for 20 points and nine rebounds, while Cameron Rundles had three 3-pointers and 21 points. Jamar Diggs also had a big second half to spur the Terriers' victory. After losing three of six in the middle of the season, Wofford is heading to the Big Dance on an eight-game winning streak.
Located in Spartanburg, S.C., Wofford has an undergraduate enrollment of just 1,400 students. The program has been around since 1906, but didn't join Division I until 1995. The Terriers posted a 4-24 record in their first season, and struggled for their first 14 years as a D-I program. However, they broke through last season by winning the Southern Conference regular season and tournament titles. Wofford forged a tie with Charleston for the regular season title this year.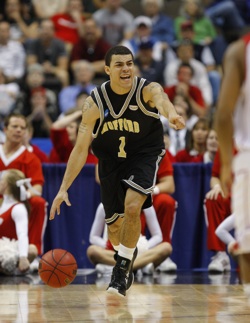 Player to know: Noah Dahlman. The senior forward is one of the most efficient big men in the country, shooting 61.7 percent from the field. Dahlman has 16 20-point games, including a stretch earlier in the season in which he scored at least 22 points in seven straight games. He gets great position in the post and has the ability to finish with both hands around the rim. Dahlman will look to improve on his performance in last year's tournament, when he finished with just 10 points and five boards.
The Vitals:
Record: 21-12, 14-4 Southern

Team colors: Old gold and black

We're thinking: 15-seed

KenPom ranking: 91

RPI: 120

Best win: George Mason (26-6)

Worst loss: Cornell (10-18)

Notable stat: The Terriers rank sixth in the country in 3-point percentage, knocking down 40.8 percent of their attempts.

Most recent tournament history: 2010. As a No. 13 seed, lost to Wisconsin in the first round, 53-49.
Photo: US Presswire
Posted by Jeff Borzello