It's sad to see the WAC in this condition. A league that once garnered four bids in 1998 has been lucky to get two on a consistent basis in the new millennium. Even the teams that will soldier through this year's tourney will be greatly diminished by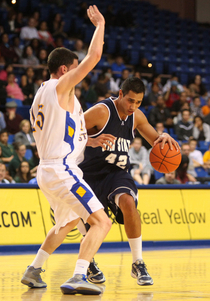 next season, as Boise State, Fresno State and Nevada prepare to go to the MWC, and Hawaii decamps for the much smaller Big West. This year, that leaves Utah State (28-3, 15-1) as the far and away best team in the conference, yet still a bubble team or worse if they fail to take the league auto bid.
The challengers are Boise State (19-11, 10-6), which forged a respectable season under new head coach and former Gonzaga assistant Leon Rice, and possibly Idaho (18-12, 9-7) or New Mexico State (15-16, 9-7), though neither of those last two seems particularly likely.
As the top seeds, Utah State and Boise State get double byes, skipping the first two rounds of play. Idaho and NMSU get a one-day reprieve and the four lower seeds battle in Las Vegas on March 9 for the right to face their more rested counterparts later down the road. The league's ninth member, Louisiana Tech, did not receive a berth in the postseason tournament.
As the WAC attempts to stave off complete collapse by inviting new low-RPI members, this tournament will look very different next season. Enjoy the current configuration while you can, if you can.

WAC bracket page


****
Title game: 7:00 p.m. ET, Saturday, March 12 (ESPN2)
BEST PLAYERS
Tai Wesley (pictured),

Utah State

La'Shard Anderson,

Boise State

Troy Gillenwater,

New Mexico State

Adrian Oliver,

San Jose State
Conference RPI: 13
KenPom.com rating: 10
Sagarin rating: 13
NCAA Tournament Locks: None
NCAA Tournament Bubble Teams: Utah State
Last NCAA Tournament Appearance:
Utah State: 2010 (lost to Texas A&M)
Boise State: 2008 (lost to Louisville)
Idaho: 1990* (lost to Louisville)
New Mexico State: 2010 (lost to Michigan State)
Hawaii: 2002 (lost to Xavier)
Nevada: 2007 (beat Creighton, lost to Memphis)
Fresno State: 2001 (beat Cal, lost to Michigan State)
San Jose State: 1996** (lost to Kentucky)
*member of Big Sky
**member of Big West


Posted by Eric Angevine

Photo: US Presswire