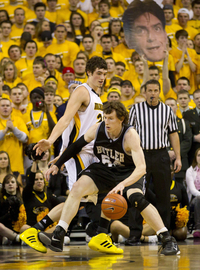 Yep, Butler's back. Like you thought they wouldn't be after Gonzaga won the WCC. It's just that kind of season. Tonight's 59-44 win at Wisconsin-Milwaukee, following a big win over Cleveland State, means the Bulldogs came through the league's leaders to prove they belonged once again.
Player to know: Matt Howard. His line of 18 points, 5 rebounds, 3 assists, 2 steals and a block was impressive enough, but the most dangerous number the senior put up tonight was 3. Just three personal fouls for the big fella, who has always been his own worst enemy in that respect. Shelvin Mack threw in 14 points on 5-10 shooting from the floor as well.

The Vitals:
Record: 23-9, 13-5 Horizon

Team colors: Blue and white

We're thinking: 12-seed

KenPom ranking: 60

RPI: 37

Best win: Florida State (21-9)

Worst loss: Youngstown State (9-21)

Notable stat: Butler is one of the nation's best defensive rebounding clubs, ranked 14th in the nation by kenpom.com.

Most recent tournament history: In case you were under a rock, Butler came within a fraction of an inch of beating Duke for the national championship. Do you get gas heat or electric under that stone? Is there enough parking?