Oakland steamrolled through the Summit League this season, going 17-1, with 10 of the wins coming by double-figures. The Golden Grizzlies completed their dominance of the conference by blowing out Oral Roberts in the conference championship game Tuesday night, 90-76. Keith Benson led the way down low, finishing with 28 points, 14 rebounds, four assists and three blocks. Reggie Hamilton provided most of the outside production, scoring 26 points and dishing out six assists.
Located in Rochester, Mich., Oakland burst onto the scene in 2005, when it made a run to the NCAA tournament despite a 12-18 record. The Golden Grizzlies have only been in Division I since 1999, but they are headed for their third Big Dance appearance. Oakland also dominated the Summit a season ago, but it couldn't capitalize and advance out of the first round of the NCAA tournament. Head coach Greg Kampe, who has been at the helm since 1984, said in mid-February that this team is different, though. Playing seven potential NCAA teams in the non-conference season prepared them well.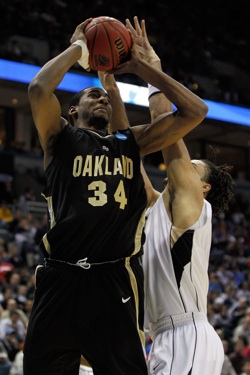 Player to know: Keith Benson. Benson is one of the most dominant big men in the country, ranking amongst the best defensive rebounders and shot-blockers around. He racked up 19 double-doubles this season and 15 separate games of at least 20 points. Benson has also proven himself against big-time competition, averaging 15.9 and 10.7 boards against major-conference teams this season.
The Vitals:
Record: 25-9, 17-1 Summit

Team colors: Gold and black

We're thinking: 13-seed

KenPom ranking: 69

RPI: 64

Best win: Tennessee (18-13)

Worst loss: Wright State (19-14)

Notable stat: The Golden Grizzlies rank second in the country in scoring offense, averaging 84.7 points per game. They are also ninth in blocks, with 5.8 per game.

Most recent tournament history: 2010. As a No. 14 seed, lost to Pittsburgh in the first round.
Photo: Getty
Posted by Jeff Borzello