The Big West is something of a forgotten conference. It's on the west coast, and it gets overshadowed in the region by the Pac-10, the Mountain West and Gonzaga and Saint Mary's. Despite the lack of attention, the league constantly plays exciting basketball and usually produces a threat for the NCAA tournament. This season, Long Beach State (20-10, 14-2 Big West) sent a message to the conference in December, going to preseason favorite UC-Santa Barbara and destroying the Gauchos by 16 on their home floor. Two losses in mid-January barely slowed LBSU, as the 49ers cruised to a four-game cushion and a regular-season title.
Despite losing three of its last four overall, Cal Poly (15-14, 10-6) finished in second, while Cal State Northridge (13-17, 9-7) came in behind them. Pacific (16-14, 8-8) and Santa Barbara (15-13, 8-8), perennial contenders in the conference, struggled to .500 finishes. Interestingly, after LBSU, the other seven teams in the league tournament finished within four games of each other.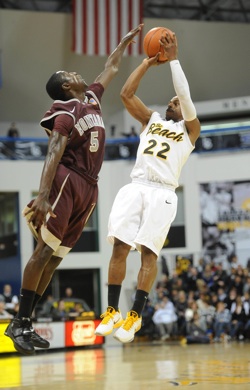 Long Beach State is on a roll heading into the conference tournament, having won 15 of its last 17 games since getting Larry Anderson back from injury. The 49ers play an up-tempo style of basketball, getting to the basket in transition and drawing fouls or finishing. Defensively, they play disciplined and control the boards. Player of the year Casper Ware leads five double-figure scorers. Anderson is a versatile forward, while T.J. Robinson racks up double-doubles
Cal Poly struggled somewhat down the stretch, losing three of four, but the Mustangs' slow-down style and defensive prowess make them a tough out. Shawn Lewis and David Hanson form a very productive duo. Cal State Northridge gets to the free-throw line as well as anyone in the country, with all-conference forward Lenny Daniel leading the way. Wing Rashaun McLemore is capable of big nights offensively.
When CBSSports.com spoke with Long Beach head coach Dan Monson in mid-February, he said his team knew it had to go through Pacific and UC-Santa Barbara in order to win a bid. Pacific faded down the stretch to fall to 8-8, but the Tigers are experienced and have a legit go-to-guy down low in Sam Willard. Santa Barbara beat UNLV in the non-conference season, but has not lived up to its lofty preseason expectations. With a duo like Orlando Johnson and James Nunnally, though, the Gauchos are capable of anything.
Big West Conference Tournament Bracket
Top Three Players:
1. Casper Ware, Long Beach State
2. Orlando Johnson, UC-Santa Barbara
3. Lenny Daniel, Cal State Northridge
Conference RPI: 26

KenPom.com Conference Ranking: 17

Sagarin Conference Ranking: 19
NCAA Tournament Locks:
None
NCAA Bubble Teams:
None
Last NCAA Tournament Appearance
Cal Poly:

0 NCAA appearances

Cal State Fullerton:

2008 (lost to Wisconsin, first round)

Cal State Northridge:

2009 (lost to Memphis, first round)

Long Beach State:

2007 (lost to Tennessee, first round)

Pacific:

2006 (lost to Boston College in overtime, first round)

UC-Irvine:

0 NCAA appearances

UC-Riverside:

0 NCAA appearances

UC-Santa Barbara:

2010 (lost to Ohio State, first round)
Photo: US Presswire
Posted by Jeff Borzello