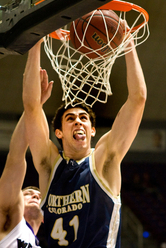 Most of the time when we say "Welcome to the Big Dance", we mean it in the context of this one season. For the Northern Colorado Bears, we mean it in a global sense. With just six seasons in the Big Sky under their belts, the team from Greeley, Colorado is going to the NCAA tournament.
It wasn't easy. UNC had to take down the defending champs first. The Montana Grizzlies had the size advantage inside, but the Bears gradually lured big man Brian Qvale and his frontcourt mates into foul trouble to close out a 65-60 win. Guard Devon Beitzel was the hero once again, as he has been all season long. This time, he scored 27 points to give fans in Butler-Hancock Hall the thrill of a lifetime.
Mike Proctor (right) contributed nine big defensive rebounds to keep the ball in play for the home team, and forward Neal Kingman tossed in 10 points to become the only other UNC player in double figures.
The Vitals
Record: 21-10, 13-3 Big Sky
Team colors: Blue and gold
We're thinking: 15 seed
KenPom ranking: 123
RPI: 109
Best win: Montana (twice)
Worst loss: Louisiana-Monroe
Notable stat: The Bears are a top-ten free throw shooting team nationally, hitting 78.1 percent overall.


Photo: US Presswire

posted by Eric Angevine