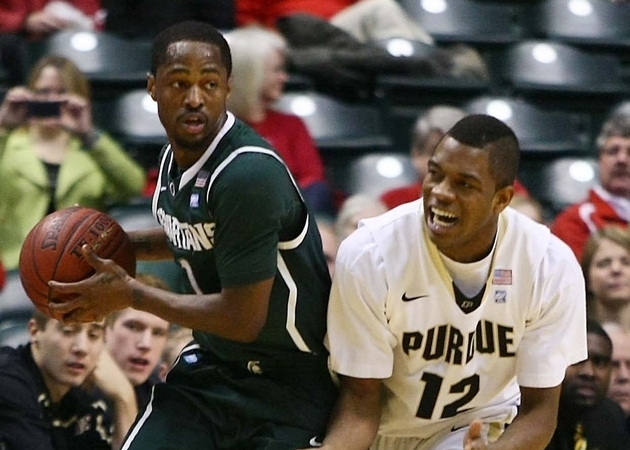 Posted by Eric Angevine


Seriously, can we really never, ever, ever give up on the Michigan State Spartans?
A regular Final Four participant over the past five years, the Spartans finally seemed to be out of gas this season, sliding to a 9-9 record in the Big Ten. A win over rebuilding Iowa in the first round of the Big Ten tournament wasn't much to write home about. With a final score of 66-61, it was hardly impressive in terms of rising above the NCAA tourney bubble.
Then came tonight's effort. Kalin Lucas, a senior who doesn't want to go out without a return trip to the NCAA tournament, put up a stunning 30 point effort, hitting 4-6 three point buckets and 10-11 free throws to will his team to a big win. Getting to the semifinal is quite an achievement for this team. Doing it by beating Purdue -- a team playing for a No. 1 seed in the Big Dance -- is nothing short of mind-boggling.
Purdue beat Michigan State twice this season; by ten points in West Lafayette and then by 20 in East Lansing. So where did this 74-56 reversal of fortune come from? It's not really that hard to say.
Michigan State has always had the ingredients to win big games this season. They have senior leadership in the backcourt, the usual stellar recruits, and the coaching mind of Tom Izzo. Given enough time to simmer, that's bound to make something tasty. The player defections that dogged the program definitely cut into the success formula, and it may not be sustainable for long, but at least Michigan State fans have hope. They've seen that old spark again.
The Spartans now await the winner of the Big Ten nightcap. Either Wisconsin or Penn State will advance to face the old familiar foe. Only that team will look a little different this time.
Instead of the light-colored jerseys awarded to favored seeds on a neutral court, they'll come armored in forest green. But they'll still be the Spartans.
Photo: US Presswire