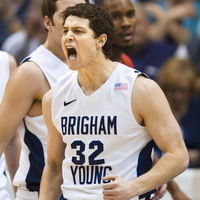 Posted by Eric Angevine
School career scoring record?
Gone.
Player of the Year race?
Over.
All of that came true when Jimmer Fredette threw down 52 daggers in an 80-72 Mountain West tournament semifinal win over New Mexico. That's the Lobos, who beat BYU twice this season. Fredette was 22/37 in the game, 7/14 from behind the arc.
Kyle Collinsworth scored 11 and Jackson Emery had 14, but the primary job of the rest of BYU's team seemed to be to rebound and pass the ball to Jimmer.

The Cougars await the winner of the San Diego State-UNLV matchup, which will begin around 11:30 p.m. ET.

D-I single game scoring records

Mountain West tournament bracket

Photo: US Presswire