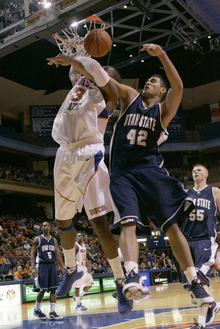 It's a classic No. 1 vs. No. 2 matchup for the WAC final, which will be played at 10:00 p.m. on ESPN2
No. 1 Utah State (29-3, 15-1) vs. No. 2 Boise State (20-11, 10-6)


There's a pretty huge gulf between the Aggies and everyone else in the WAC this season. Stew Morrill's Utah State team has just two non-conference losses, to Georgetown and BYU, and just one aberration of a conference loss, a 64-56 loss at Idaho. The team has enough seniors to start a roaring game of shuffleboard at Del Boca Vista retirement home, and a veteran coach in Stew Morrill. So, even though this is a one-two matchup, the Aggies -- No. 17 in the national polls -- have to be the heavy favorites. Boise State is on its way to the MWC after this final shot at a WAC title, and they've had a really strong year under rookie head coach Leon Rice, so it's a certainty that they'll be gunning for the positive vibes a title shot will carry as they prepare to move up a notch.
For the Aggies, the primary player of note is Tai Wesley. At 6-foot-7, 240 lbs, Wesley is the primary inside threat. While he's not an elite shot blocker, he can do the job when necessary, helping seal off the interior and force opponents into difficult jump shots. To that end, he has the help of 6-7 junior Brady Jardine, who is a bit inconsistent as a scorer, but has thrilled the rowdy students at the spectrum with the occasional putback dunk off of an offensive rebound. As a team, the Aggies play great defense, and currently rank
No. 8 in the nation in defensive efficiency
, according to kenpom.com.
Former Houston signee Brockeith Pane is the distributor who keeps the pistons turning for this club, dishing out 3.4 assists per game to go with his 11.4 points. Senior Brian Green is the designated jump shooter, and he excels behind the line. His knack for hitting the open jumper has helped keep defenders off of Wesley and Jardine all season long. Senior guards Pooh Williams and Tyler Newbold help round out a dangerous rotation.
For Boise State, the core unit is led by La'Shard Anderson. The senior captain is the Broncos' leading scorer and passer, and he's coming off of a 9-dish performance in the semifinal against No. 3 New Mexico State. He scores so much because he can, not because he has to. His passes find the able hands of fellow seniors Robert Arnold (12.6 ppg), Paul Noonan (10.5) and Daequon Montreal (10.3). For these guys, the move to the Mountain West is meaningless, and they'll want to go out with a bang. An NCAA tournament bang.
As mentioned above, Stew Morrill is a veteran coach with several NCAA appearances on his resume, so this will be really interesting in terms of figuring out how good Leon Rice is. The BSU head man moved over from his top assistant's gig at Gonzaga this summer, and has shown really well in his initial campaign. If he pulls off the upset here, he may be one to watch in the future.
WAC bracket page
Photo: US Presswire

Posted by Eric Angevine