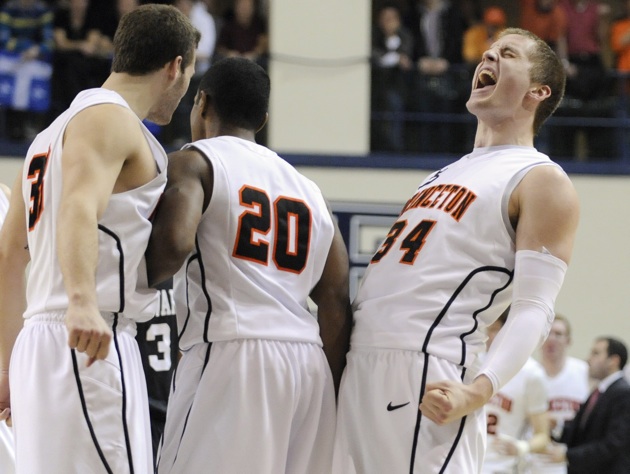 Posted by Jeff Borzello
NEW HAVEN, Conn. – Moments after hitting the game-winning shot, Princeton guard Douglas Davis regretted his next move.
Davis fell, getting immediately swarmed by teammates, students and fans.
"That was the worst decision I ever made, because everyone just jumped on me," Davis said. "I wish I had kept my balance and just ran out. I didn't think about getting buried."
Davis will have to get over it pretty quickly, as his shot at the buzzer lifted Princeton over Harvard, 63-62, in the Ivy League playoff. The Tigers won the automatic bid from the conference, and will return to the NCAA tournament for the first time since 2004. Harvard's 65-year NCAA drought will continue at least one more year.
Davis led Princeton with 15 points, while fellow senior Kareem Maddox had 10 points and 13 rebounds. For Harvard, big man Keith Wright had 16 points and six rebounds, and Brandyn Curry finished with 12 points, five rebounds and six assists.
Harvard led for most of the afternoon, expanding its margin to nine points at the beginning of the second half. Princeton continued to chip away at the deficit, until Davis knocked down back-to-back jumpers to give the Tigers a 51-50 lead with 5:26 remaining.
After a back-and-forth final five minutes, Curry finished a lay-up in the lane with 11 seconds remaining, pushing Harvard back on top. Princeton didn't call a timeout on the ensuing possession, but Davis' drive was blocked by Kyle Casey.
Princeton head coach Sydney Johnson called a timeout to draw up the game-winning play. Despite Davis shooting just 3-for-13 prior to the buzzer-beater, everyone was confident he would come through in the clutch.
"I'm not surprised Doug hit it," Maddox said.
"Shooters shoot," Davis added. "Some fall, some don't. That's never going to rattle my confidence. If I miss 99 shots, I'm still going to take that 100th shot, and I'm going to shoot it with confidence."
Davis caught the inbounds pass in the corner and dribbled to his right. After allowing Oliver McNally to overpursue and fly past him, Davis leaned in for the winner.
The referees checked the monitor to make sure the basket counted, but replays showed Davis let it go with 0.2 seconds left.
"I was undisciplined," McNally said of his defense on the last shot. "I jumped when I shouldn't have."
Both Harvard and Princeton went 12-2 during the regular season, splitting the season series. The tie necessitated just the eighth one-game playoff in Ivy history, in front of a sold out John J. Lee Amphitheater at Yale University.
The energy in the building was at a high level well before tip-off, with both schools selling out their ticket allotment in just four hours. The arena was split down the middle, with Harvard fans on one side and Princeton supporters on the other.
"The atmosphere was unbelievable," Princeton guard Dan Mavraides said. "I couldn't hear a thing the whole game. It's something I will always remember."
Even in defeat, Harvard head coach Tommy Amaker acknowledged the occasion.
"It was a special afternoon for our conference," Amaker said.
The question within the league now turns to the at-large selections for the NCAA tournament – can Harvard still get a bid?
The Crimson have a gaudy RPI in the 30s and three solid wins over Princeton, Colorado and Boston College. Due to the soft bubble, Harvard has an outside chance at hearing its name on Selection Sunday.
Due to Davis' clutch shot, Princeton doesn't need to worry about its postseason plans.
"I know [the Ivy] deserves one," Johnson said. "And that's us."
The Vitals:
Player to know: Kareem Maddox. The league's defensive player of the year, Maddox is also Princeton's top scorer and rebounder. He finished the season on a roll, scoring in double-figures in 10 straight games. Maddox, a 6-foot-8 forward, can finish with both hands around the rim and also dish it off when doubled. He is capable of big performances, as evidenced by his two 30-point efforts earlier this season.
Record: 25-6, 13-2, Ivy.

Team colors: Orange and Black.

We're thinking: 13-seed

KenPom ranking: 89

RPI: 48

Best win: Harvard, twice (24-6)

Worst loss: Brown (11-17)

Notable stat: The Tigers are the nation's sixth-best defensive rebounding team, allowing offensive rebounds on only 26.8 percent of possessions.

Most recent tournament history: 2004. In the tournament as a No. 14 seed, the Tigers lost to Texas in the first round.
Photo: AP