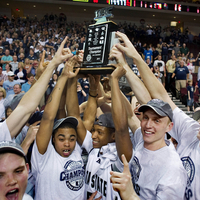 The No. 1 Utah State Aggies had little trouble securing their NCAA tournament bid in Las Vegas, beating the No. 2 seed Boise State Broncos 77-69 in Orleans Arena. Tai Wesley and Brockeith Pane each scored 19 to lead the Aggies to the WAC title over the MWC-bound Broncs. Senior forward Nate Bendall, who averages just over six points per game, had a fine evening with 16 points, and sharpshooter Brian Green threw in another 12.
The Aggies have been the team to beat in the WAC all season long, and the final game of the league in its current state empatically confirmed that early prediction.
The Vitals


Player to watch: Wild Bill, the portly gentleman who directs the fan response to action on the court. He is by far the most recognizable face in the gym when the Aggies play.
Record: 30-3 (15-1)
Colors: Blue and white
We're thinking: 10 seed
Kenpom ranking: 17
RPI: 39
Best win: at St. Mary's
Worst Loss: at Idaho
Interesting stat: Utah State is a reasonably effective offensive team, but it's a great defensive team. The Aggies rank in the top 15 in defending opponents both inside and outside, and kenpom.com tags them as the 2nd best defensive rebounding squad in the nation. All of that combines to make them the sixth-best team by defensive efficiency rating, which should make them a very dangerous team to face in the Big Dance.
Most recent tourney appearance: 2010, lost to Texas A&M in the first round.