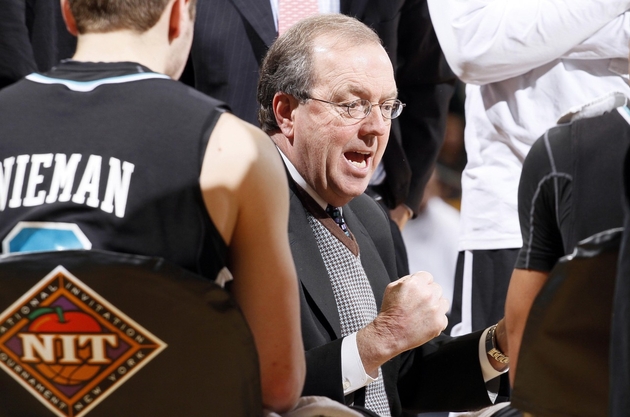 Posted by Eric Angevine

All those teams that were left out of Sunday's selection show now have a shot at an NIT title. Not exactly what they wanted, but at least there's some basketball to be played, with a shot at a trip to Madison Square Garden.
Here's how the whole thing will go down.
March 15-16: First Round at campus sites of higher seeds.
March 18-21: Second Round, same
March 22 & 23 (ESPN/ESPN2): Quarterfinals at campus sites of higher seeds.
March 29: Semifinals, 7 pm and 9:30 pm, ESPN2, Madison Square Garden
March 31: Championship Game, 7 pm, ESPN2, Madison Square Garden

Printable NIT bracket

Left side bracket:
No. 1 Alabama Crimson Tide vs. No. 8 Coastal Carolina Chanticleers, Tuesday at 7 pm, ESPNU

No. 4 New Mexico Lobos vs. No. 5 UTEP Miners, Tuesday at 9 pm, ESPN2

No. 3 Missouri State Bears vs. No. 6 Murray State Racers, Tuesday at 8 pm, ESPN3

No. 2 Miami Hurricanes vs. No. 7 Florida Atlantic Owls, Wednesday at 7:30 pm, ESPN3

No. 1 Colorado Buffaloes vs. No. 8 Texas Southern, Wednesday at 7 pm, ESPN3

No. 4 California Golden Bears vs. No. 5 Mississippi Rebels, Wednesday at 9 pm, ESPN2

No. 3 Colorado St. Rams vs. No. 6 Fairfield Stags, Tuesday at 9 pm, ESPN3

No. 2 St. Mary's Gaels vs. No. 7 Kent St. Golden Flashes, Tuesday at 11 pm, ESPN2
Right side bracket:
No. 1 Boston College Eagles vs. 8 McNeese St. Cowboys, Tuesday at 9 pm, ESPNU

No. 4 Northwestern Wildcats vs. No. 5 Milwaukee Panthers, Wednesday at 8 pm, ESPN3

No. 3 Oklahoma St. Cowboys vs. No. 6 Harvard Crimson, Tuesday at 7 pm, ESPN

No. 2 Washington St. Cougars vs. No. 7 Long Beach St. 49ers, Wednesday at 10 pm, ESPNU

No. 1 Virginia Tech Hokies vs. No. 8 Bethune-Cookman Wildcats, Wednesday at 8 pm, ESPNU

No. 4 Wichita St. Shockers vs. No. 5 Nebraska Cornhuskers, Wednesday at 7 pm, ESPN2

No. 3 Dayton Flyers vs. No. 6 Charleston Cougars, Tuesday at 7 pm, ESPN2

No. 2 Cleveland St. Vikings vs. No. 7 Vermont Catamounts, Tuesday at 7 pm, ESPN3
Photo: US Presswire