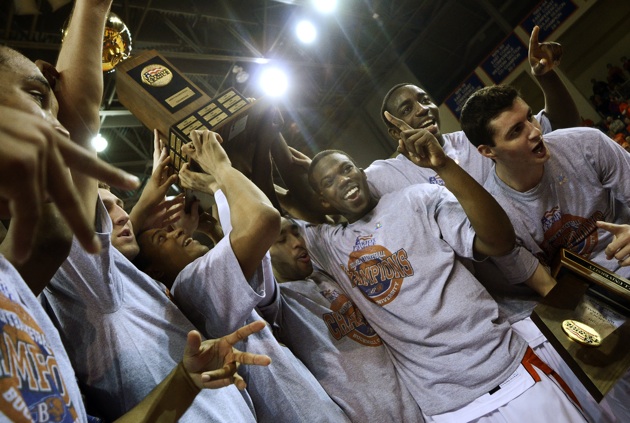 Posted by Jeff Borzello
This year's Bucknell team wants everyone to know that it is not the same team from 2005 and 2006 – even though those two teams won their first-round games and put Bucknell on the college basketball map.
It might sound strange, but the Bison are looking to write their own story, not just pick up on one written five years ago.
"We acknowledged it but we're creating our own legacy," G.W. Boon said after last Friday's 72-57 Patriot League championship game win over Lafayette. "Every player and coach is here because of the legacy, but you don't want to lose focus."
In 2005, Bucknell pulled off the one of the biggest upsets in recent memory, knocking off heavily-favored No. 3 seed Kansas in the first round. The next season, the Bison received a No. 9 seed and defeated Arkansas in the first round.
They have not been back to the tournament since then.
"I remember I was a Kansas fan when they beat Kansas," Boon said. "When Bucknell came knocking on my door the next summer to try and recruit me, I automatically knew who they were, and I knew it was a team and a program that was about winning.
"I signed up to be a winner and write my own legacy with my teammates."
Boon said the members of those teams came to practice and hung out with the current players, talking about what the hype surrounding the program and what it was like to win those games.
The former players were the first ones to dismiss the idea of carrying on a legacy.
"They hung out with us and I was saying we were following in their footsteps," Boon said. "And they were like, "No, we did what we did.' It's our time."
Head coach Dave Paulsen was not around for those NCAA tournament teams, taking over the program from Pat Flannery in 2008.
The core of this year's team has been through three consecutive sub-.500 seasons, including a seven-win campaign in 2008-09. They went through a coaching change and the dark days of the program. Paulsen credits them with staying for four years and seeing the fruition of their hard work.
"It was important for me not to be Pat Flannery-light," Paulsen said. "None of them chose me. But I chose all of them."
On a senior-laden team, it was a freshman that played a major part in the conference championship game and could be a factor in the NCAA tournament against Connecticut.
Philadelphia native Cameron Ayers had interest from schools like Notre Dame, Clemson, Michigan and Virginia coming out of high school, but Ayers chose a struggling Patriot League program.
The decision seems to be paying off.
"It was one of the big things I looked for," Ayers said. "If I went somewhere else, I might not have been playing as much as a freshman. I wanted to be part of something special."
The Bison are confident heading into their first-round game against the Big East tournament champion Huskies. With Mike Muscala on the inside and Darryl Shazier running the show, Bucknell feels it can compete with anyone in the country.
And it has nothing to do with the program's previous success.
"We haven't arrived yet," Boon said. "We're going to go into our game on Thurday or Friday, whoever we play, and we're planning on winning."
Photo: