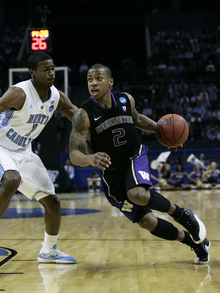 Posted by Chip Patterson
CHARLOTTE -- We've got more controversy in regard to officiating. It was a dogfight, all the way down to the very end.
North Carolina
and
Washington
had the feel of an Elite Eight game, not a second-round pod matchup.
Roy Williams'
teams are often well-known for their offense, but on Sunday afternoon in Charlotte it was their defense that advanced the Tar Heels to the Sweet 16. North Carolina withstood a barrage of attempts by the Huskies to reclaim the lead that they lost in the final minutes of the second half. But possession after possession, the Tar Heels came up with either a turnover or defensive rebound to seal the victory.
After showing no fear the entire game, the Huskies looked overwhelmed in the final minute. With an 84-80 lead and the ball, Barnes worked the shot clock down before driving the lane and falling short on an attempt to ice the game.
Terrence Ross
got the rebound and quickly pushed the ball to Thomas. Thomas found Scott Suggs for three to bring the Huskies within one and take all of the air out of the arena.
Things only continued to surge as
Kendall Marshall
missed the front end of a one-and-one. Possessing the ball down one with 15 seconds left, things got strange.
Instead of putting the ball in the hands of
Isaiah Thomas,
the Huskies' giant-killer,
Venoy Overton
drove the lane and fell short on a layup. But the ball was knocked out of bounds on the Tar Heels, so Washington was still alive.
John Henson
stands at a long 6-10. But guarding the inbounds pass with seven seconds left, he appeared 15 feet tall. Henson tipped the inbounds pass up in the air and Dexter Strickland recovered. After making both free throws, the Huskies had one last chance with five seconds left.
Once again, instead of getting the ball to Thomas, Overton took charge. He let a runner fly from around 35 feet to try and send the game into overtime. The attempt fell way short, but Henson (who had just supposedly saved the day) touched the ball before it went out of bounds. With .5 seconds, they finally put the ball back in Thomas' hands for three on the baseline, only Thomas had a foot inside the line. His attempt fell short, and speculation about whether Henson goaltended Thomas' shot bubbled up. Didn't matter though: the shot was a two-pointer.
Keep it here at
CBSSports.com
for more reaction from Charlotte, where the story has become more about another wild, controversial ending than the team that got the victory.
Photo: US Presswire