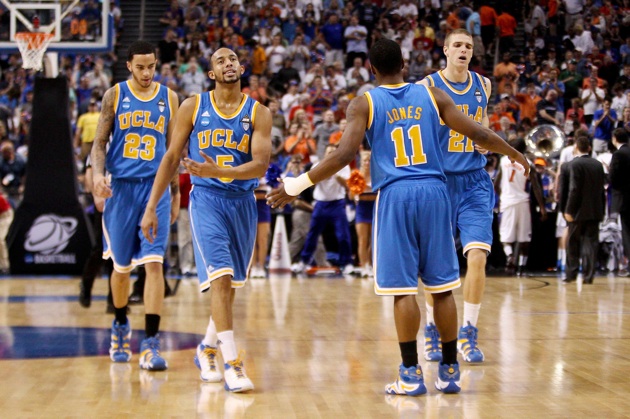 Posted by Jeff Borzello
This silver lining won't cheer up any teams that were ousted during the first weekend, but it's a silver lining nonetheless.
12 of the 16 teams remaining in the NCAA tournament were already home by this time last year, with only Duke, Ohio State, Butler and Kentucky making back-to-back appearances in the regional semifinals.
Part of the fun immediately following the Final Four is the early preseason top 25 rankings that everyone puts out, even though no one has any idea of the players that will go pro or transfer. The following list of five schools is fool proof, though – these teams will still be around for the second weekend next season.
Syracuse: The Orange didn't live up to expectations in the NCAA tournament, getting bounced by conference foe Marquette in the third round. Jim Boeheim will be back next year, though. They only lose Rick Jackson from the rotation, and also welcome a very good recruiting class. Michael Carter-Williams will prove a legitimate scoring threat from the perimeter, and Rakeem Christmas will provide rebounding and defense. If the young players continue to improve, Syracuse will be fine.
Louisville: The job that Rick Pitino did with this roster was admirable, despite the upset loss to Morehead State. Pitino will bring in more talent next season and will also get some veterans back from injury. Wayne Blackshear and Chane Behanan highlight the recruiting class, while Rakeem Buckles and Jared Swopshire should be healthy. Peyton Siva is primed for a true breakout season, and Kyle Kuric is slowly developing into one of the most underrated players in the Big East.
Vanderbilt: The Commodores had all the pieces for a deep tournament run this season, they just never seemed to put it together when it mattered. If Vanderbilt can finally get past the round of 64, expect a run to at least the Sweet 16 or Elite Eight. Jeff Taylor and John Jenkins could leave Vandy and go to the NBA, but this team is primed for a huge season if they return. Dai-Jon Parker will add more perimeter toughness and Kedren Johnson can handle the ball.
Texas A&M: This team is not pretty or fun to watch, but it's highly effective and seems to get to the NCAA tournament every year. Next season will be no different, and that could be the year they finally get out of the first weekend. B.J. Holmes is the only personnel loss, but incoming freshman Jamal Branch will step in immediately at the point. Khris Middleton should develop into one of the better scorers in the Big 12, and the Aggies are guaranteed to defend their tails off.
UCLA: If everyone returns, look out. The Bruins have some of the most talent in the country, with NBA prospects littering the roster. Tyler Honeycutt could be the best player in the Pac-10, while Reeves Nelson and Malcolm Lee are also future pros. Josh Smith has to lose weight to become more consistently effective down low, but Ben Howland also welcomes David Wear and Travis Wear, two talented transfers from North Carolina. Point guard play could be the key again.
Keep an eye on these three:
- If Travis Leslie and Trey Thompkins return to Georgia, the Bulldogs will have a formidable nucleus to go with stud freshman Kentavious Caldwell-Pope.
- Texas' Jordan Hamilton and Tristan Thompson both said they would return to Austin, but the jury is still out. This is a top-five team if both come back.
- Memphis has a host of young players with NBA aspirations. If the roster remains intact, freshman Adonis Thomas will join a tremendously talented team.
Photo: US Presswire