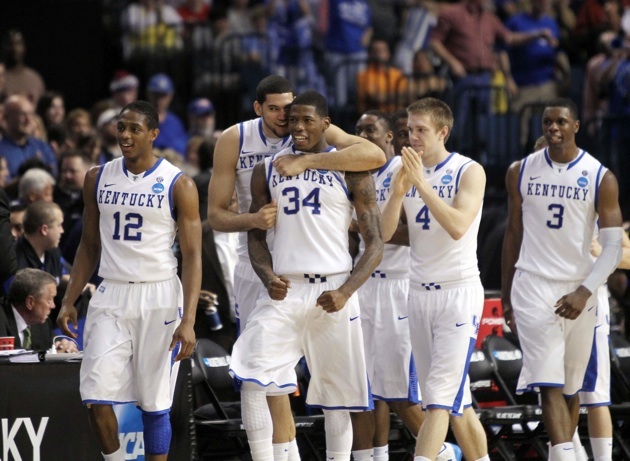 Posted by Jeff Borzello
The Sweet 16 is filled with double-digit seeds and upset-minded Cinderellas looking to continue a surprising run to the Final Four. More often than not, though, the national semifinals are going to be filled with the heavy-hitters of the bracket, the top few seeds. Despite all the upsets, three No. 1 seeds, three No. 2 seeds, two No. 3 seeds and two No. 4 seeds still remain. That makes for some intriguing Sweet 16 match-ups on Thursday and Friday – which is the best?
1. No. 1 Ohio State vs. No. 4 Kentucky: Two of the most talented teams left in the field, this could easily be a Final Four match-up. The key for Kentucky will be keeping Josh Harrellson out of foul trouble and guarding the perimeter. Ohio State is too good when it is knocking down its shots and facing a depleted interior group.
2. No. 2 Florida vs. No. 3 BYU: A rematch of last year's classic first-round game that BYU won in two overtimes, 99-92. Jimmer Fredette will need another monster game in order for the Cougars to win – Florida's frontcourt will take advantage of the absence of Brandon Davies. The key could be Kenny Boynton; is he healthy?
3. No. 2 San Diego State vs. No. 3 Connecticut: Kemba Walker vs. one of the best frontcourts in the country. It's difficult to bet against Kemba right now, but the Aztecs' frontcourt is capable of dominating a Huskies frontcourt that has struggled on the boards this year. Who will guard Kemba for SDSU? Billy White guarded Jimmer Fredette this season.
4. No. 4 Wisconsin vs. No. 8 Butler: Butler is two wins from making a second straight improbable run to the Final Four, but the door is open for Wisconsin as well. The guard match-up of Shelvin Mack and Jordan Taylor will be tremendous, although Butler needs someone to step out and defend Jon Leuer.
5. No. 10 Florida State vs. No. 11 VCU: If you like outstanding half-court defense, this is the game for you. Florida State has the size and athleticism to force teams into difficult shots all over the court, while VCU pressures the ball and forces turnovers. Both teams guard the perimeter extremely well, but VCU is more reliant on the three.
6. No. 1 Duke vs. No. 5 Arizona: Arizona's Derrick Williams needs a superhuman effort for the Wildcats to win this game. Duke has the size to defend him, and it remains to be seen if Arizona has the firepower to hang with the Blue Devils. Momo Jones will be a key in the backcourt against Nolan Smith and Kyrie Irving.
7. No. 2 North Carolina vs. No. 11 Marquette: This one could get out of hand quickly. Teams have trouble with Marquette because of its versatile big men and hot-shooting perimeter group. North Carolina has the frontcourt to stifle the Golden Eagles and a trump card at point guard in Kendall Marshall.
8. No. 1 Kansas vs. No. 12 Richmond: Richmond has one of the best inside-outside tandems in the country in Kevin Anderson and Justin Harper, but that might not be enough against a supremely talented and deep Kansas team. Marcus Morris is one of the few players in the country that can guard Harper both inside and outside.
Photo: US Presswire