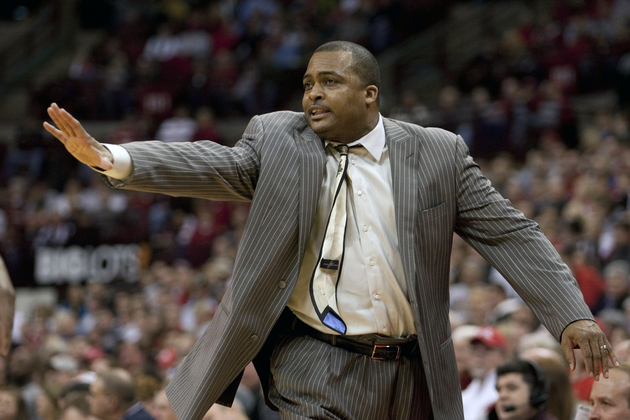 Posted by Eric Angevine

As we've seen this season, the Colonial Athletic Association is a growing destination for great coaches. Virginia Commonwealth, currently in the Sweet 16, is already in danger of losing Shaka Smart after just two seasons, but they're used to it. They sent Anthony Grant to Alabama and Jeff Capel to Oklahoma without ever breaking stride.
Other coaches, like ODU's Blaine Taylor and Jim Larranaga of George Mason, get frequent mentions for open slots at BCS schools, but neither has jumped yet. Hofstra's Tom Pecora left last season to work on turning around Fordham in the Atlantic 10.
That's great for the schools at the top of the league. What about the rest? Down near the bottom of the standings, year in and year out, are Georgia State and Towson. Both let their coaches go this month after disappointing play doomed their teams once again. Towson hasn't made a hire yet, but Georgia State made a bold move by hiring Ron Hunter away from IUPUI of the Summit League.
Why are these two a match made in heaven?
For Hunter, it's a no-brainer. As much as he might love IUPUI -- he's been there since 1994, when it was a D-II school -- he's only been to the NCAA tournament once since the school became eligible in D-I. That's because the Summit is stuck in one-bid purgatory. Even a great regular season doesn't mean much if a school doesn't win that final game in the league tournament.
The CAA, on the other hand, got three teams in this year for the first time. The last team in, the Rams, is the last one standing. The league's profile is bound to grow as VCU gets more of the spotlight. Nobody has forgotten that George Mason made a Final Four run in 2006, either. The league is sort of a shadow ACC, with teams in major media markets like Boston, Washington D.C., Philadelphia and Atlanta, where Hunter will coach. The GSU sports arena only holds 3,400, but that's a darn sight better than the 1,200 that fit in the Jungle in Indianapolis.
That's why Hunter wanted the job, but why did the Panthers want Hunter?
Ron Hunter is an obvious program-builder to those who pay attention. The year his Jaguars moved from D-I independent status to the Summit League, he came in sixth in the new conference. The next season, he was second, and won the auto-bid to play in the NCAA tournament in 2003. His teams have never come in any lower than fourth place since. Do that in the CAA, and you might just visit the Big Dance more often than not.
Hunter is also known as a humanitarian. Many coaches have gone barefoot to benefit the
Samaritan's Feet
charity, but Hunter was the first, back in January of 2008. It has given him more name recognition (or sole recognition) than any of his basketball exploits. When a program hires Ron Hunter, it broadcasts decency, humanity and security to recruits, parents, and fans. If there's ever a recruiting scandal at Georgia State under his banner, it will be the most shocking of events.
And the man can recruit. Don't doubt it. If you need proof, I'm going to give you one name: George Hill. The 6-foot-2 San Antonio Spurs guard is averaging 11.0 points per game in the NBA this season, despite his humble beginnings at IUPUI. Hill is an Indianapolis native who went to high school up around Butler's end of town, but he ended up with Hunter at the Jungle. Read his tweets
@George_Hill3
and you'll get a sense of a man who absorbed that lesson of humility and compassion from Hunter and still displays it as a millionaire professional ballplayer.
Atlanta is undoubtedly richer in talent than Indianapolis. If Hunter can make a habit out of finding the George Hill-type player there, the Panthers will turn around very quickly. That might be easier now than at any other point in GSU's history, as powerhouse Georgia Tech is now behind them in searching for a new coach. Georgia State won't get that many of the great ones, but it only takes one, even one who takes some developing over four years, to make a difference. As a CAA-knowledgeable colleague, Jerry Beach, wrote recently: "
Georgia State is also interesting b/c it just began playing football and seems to have designs on moving beyond I-AA as soon as possible (nothing concrete to back that up, just a hunch). That could eventually lift the program into a borderline BCS conference like Conference USA." Interesting, indeed.

All this by way of saying: keep an eye out for Ron Hunter and Georgia State. This could be the start of something big for a humble, shoeless man and an also-ran program.

Photo: US Presswire