Posted by Eric Angevine

As my colleague Gary Parrish reported earlier today, Dayton's Brian Gregory will become the next head coach at Georgia Tech, succeeding the recently fired Paul Hewitt.

Dayton fans are actually kind of happy to be losing their coach. That should be a red flag.

I'm pretty sure Tech fans are pulling some pretty puzzled expressions out there at this news. This is unlikely to be a popular hiring down in Atlanta. Not Jeff Bzdelik to Wake Forest confusing, but only slightly north of that low-water mark.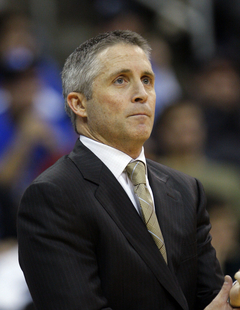 I'm not saying Gregory is a bad coach - far from it. But his resume isn't going to assuage any fears that backers of the Ramblin' Wreck have accumulated during the past decade.

The knock on Paul Hewitt has been that he is able to occasionally bring in superior talent, but for all that, has been unable to do much with what he has. I'd argue that the same can be said of Gregory.

Look at the past three seasons in Dayton. In 2009, Gregory had Brian Roberts leading his backcourt and scoring over 18 points per game. Alongside him, promising sophomore Chris Wright and junior Marcus Johnson gave the Flyers plenty of dynamic scoring options. That team went 11-5 in the A-10, lost in the second round of the league tourney, but got an at-large bid anyway. The Flyers nipped West Virginia and lost to Kansas. Not a bad showing at all.

Last year, the Flyers had a perfect storm of naming synchronicity: Chris Wright, Marcus Johnson and Chris Johnson put on a show from time to time and had Flyers fans thinking of a repeat trip to the Big Dance. Not so. The Flyers were 8-8, lost in the second round of the conference tourney, and went to the NIT. They won the whole schmear, taking down North Carolina to do so. It wasn't the NCAAs, but Gregory's name was still red-hot in the summer coaching rumors.

This year, Wright and Johnson were back, and local stud point guard Juwan Staten joined them in the backcourt as a freshman. Excitement surrounded the program once again. The hope was to build on the NIT championship momentum and get back to the NCAA tourney. Instead, UD went 7-9 in league play, lost to Richmond four games deep in the A-10 tourney, and lost to College of Charleston by ten in the first round of the NIT. Staten announced his intention to transfer from the program shortly thereafter.

The knock on Gregory has been that his offense is rather staid. It hasn't been terribly efficient, either. Slow and ineffective isn't going to thrill ACC fans used to something more fluid.

All of this is unlikely to scan properly for folks in Atlanta today. It doesn't mean Gregory is a bad coach, but it's not likely to convince anyone that he's the guy to resurrect the once-proud Yellow Jackets program, either. The first thing Gregory is going to have to do is sell himself to the local fans, who are going to wonder why they should embrace this compact Midwestern fellow as the savior of their team. Then he'll have to sell himself to the players, and then make a splash on the recruiting scene, especially within the city limits.

It's a tall order, and it's proper to question if Gregory is up to the task. If I have to some day eat my words with a side of Sriracha hot sauce, I'll do it with gusto. I'd rather see Gregory succeed than fail, as would fans of the 'Jackets. But right now, the only defensible stance to take is a somewhat skeptical wait-and-see attitude.