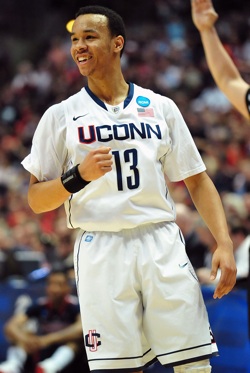 Posted by Jeff Borzello
Starters
Connecticut:
G- Kemba Walker (23.9 ppg, 5.3 rpg, 4.5 apg)
G- Jeremy Lamb (11.1 ppg, 4.3 rpg)
F- Roscoe Smith (6.5 ppg, 5.2 rpg)
F- Tyler Olander (1.5 ppg, 1.8 rpg)
C- Alex Oriakhi (9.6 ppg, 8.6 rpg, 1.6 bpg)
Kentucky:
G- Brandon Knight (17.3 ppg, 3.9 rpg, 4.2 apg)
G- DeAndre Liggins (8.8 ppg, 4.1 rpg, 2.5 apg)
F- Darius Miller (11.1 ppg, 4.6 rpg, 44.9% 3pt)
F- Terrence Jones (15.8 ppg, 8.7 rpg, 1.9 bpg)
C- Josh Harrellson (7.6 ppg, 8.8 rpg)
Three keys for Connecticut:
- Guarding the perimeter: Kentucky shoots the 3-pointer as well as anyone in the country, with multiple players capable of knocking down the outside shot.
- Getting Jorts in foul trouble: This one falls on Alex Oriakhi. The big man has struggled offensively at times, but getting Josh Harrellson in foul trouble would allow the Huskies to dominate the glass.
- Role players: Kemba is a constant. The nation's best point guard will get his 25-30 points no matter if his shot is falling or not. Players like Jeremy Lamb and Shabazz Napier will need to step up.
Connecticut's X-factor: Shabazz Napier: Kemba Walker and Jeremy Lamb have been two of the better players during the NCAA tournament, but Napier has been an underrated asset. He comes in the game and runs the show, allowing Walker to play off the ball. Napier is also a lockdown defender who pushes the tempo.
Three keys for Kentucky:
- Kemba Walker: UConn can't win without Walker playing well. If DeAndre Liggins can keep Walker on the perimeter and force him to take jumpers, Kentucky will win.
- Keeping UConn out of transition: The Huskies are at their best when they're running and scoring fast-break points. Kentucky has to limit turnovers and make it a halfcourt game.
- Rebounding: Connecticut is one of the best offensive rebounding teams in the country; Kentucky has to keep Alex Oriakhi and Roscoe Smith off the glass.
Kentucky's X-factor: Doron Lamb: Lamb hasn't scored in double figures in the NCAA tournament, but his shooting could be a key against Connecticut. Kemba Walker and Shabazz Napier will focus on harassing Brandon Knight, potentially freeing Lamb for open outside jumpers. He needs to knock them down.
Photo: US Presswire