Posted by Jeff Borzello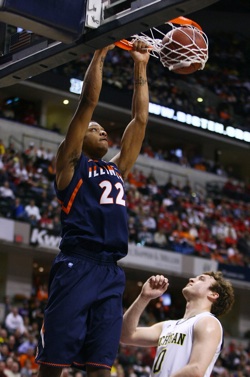 It seems that the saga of Jereme Richmond at Illinois is finally over.
On Saturday, two sources informed CBSSports.com that Richmond was likely entering his name into the NBA Draft. His brother, William, refuted those rumors though.
Tuesday, Richmond made it official, announcing that he was leaving Illinois and would look to hire an agent.
"I enjoyed my time at the University of Illinois and would like to thank the coaching staff and my teammates for everything they've done for me," Richmond said in a statement. "At this time, I'm ready to follow my dreams and achieve my life-long goal of playing in the NBA."
Richmond had his ups and downs during his freshman campaign under Bruce Weber. He missed practice in January and then didn't play in either NCAA tournament game amidst rumors that he was involved in a fight with teammates in early March.
He averaged 7.6 points and 5.0 rebounds.
In addition to Richmond, the Fighting Illini also lose senior starters Demetri McCamey, Mike Davis and Mike Tisdale, as well as forward Bill Cole. Next season, wings D.J. Richardson and Brandon Paul will need to take a step forward offensively, while Meyers Leonard has to become more assertive down low. After that, the rotation seems unclear.
Fortunately, Weber brings in a tremendous recruiting class. Mycheal Henry is an explosive scorer, Tracy Abrams is a solid point guard, and Mike Shaw and Nnanna Egwu should be able to help down low.
While Richmond would have been the most talented player on the roster next season, his off-court distractions would not have been worth the risk.
Photo: US Presswire