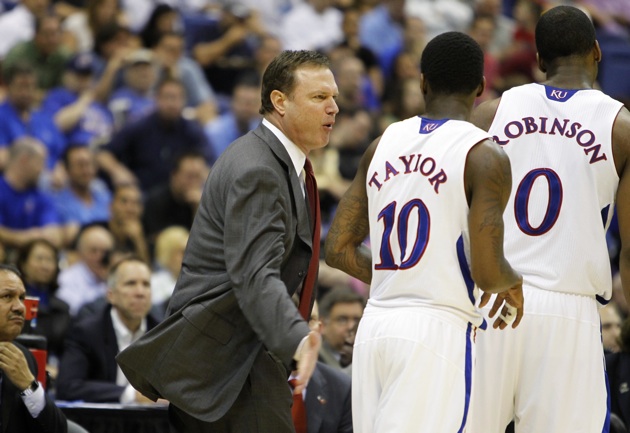 Posted by Jeff Borzello
Although Kansas fell a game short of the Final Four this season, Bill Self will have two major pieces back in the fold to lean on.
Junior guard Tyshawn Taylor and sophomore forward Thomas Robinson announced Wednesday they would return to Kansas next season, spurning the NBA.
"We had a great year," Taylor said. "There has been a lot of speculation with fans and on the internet on what we were going to do. The bottom line is we're going to work very hard this offseason and put ourselves to play in that game again and come out with a different result."
"I can't wait to run up and down the court in a packed Allen Fieldhouse next year," added Robinson. "I want to take more of a leadership role in us moving forward and winning another league championship and getting to the Final Four."
The 6-foot-3 Taylor averaged 9.3 points and 4.6 assists this season, while Robinson put up 7.6 points and 6.4 rebounds off the bench.
With starters Brady Morningstar and Tyrel Reed using up their eligibility, and Marcus Morris, Markieff Morris and Josh Selby all leaning towards the NBA, Kansas could take a step back next season.
With that said, the Jayhawks were one of the deepest teams in the country this season, and will use that depth to fill in the holes. Taylor is a very good start at the point guard position, and Robinson will develop into one of the nation's best post players.
Travis Releford and Elijah Johnson showed flashes in the backcourt last season, while incoming freshmen Ben McLemore and Naddir Tharpe should make an impact. McLemore is extremely athletic and can score effectively, and Tharpe is a solid ball-handler who can run an offense.
The frontcourt will struggle outside of Robinson. Jeff Withey returns, but he scored a total of 22 points in Kansas' final 24 games.
If the Morris twins and Selby return, Bill Self has a Final Four team. Without them, the Big 12 title could be up for grabs.
Photo: US Presswire