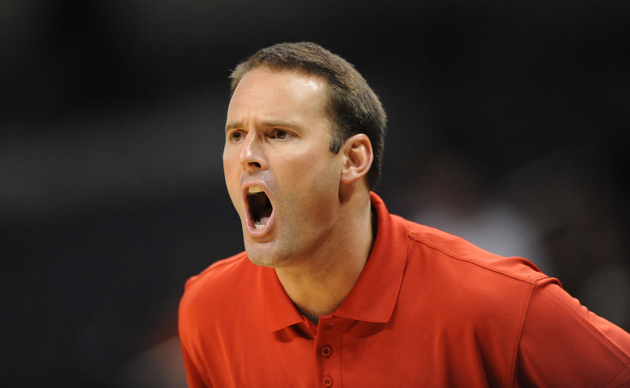 Posted by Eric Angevine


I've honestly always had mixed emotions when a legendary coach hands his job over to one of his kids. On the one hand, it seems unfair to other rising coaches who may be more qualified, but never even get a chance to interview. On the other hand, it usually feels unfair to the man who gets the golden opportunity, as well. Sure, he's getting a big-money job early in his career, but the weight of expectation is almost always too heavy to carry.
We've seen a lot of this recently, with Pat Knight and Texas Tech being only the latest example of how tough it is when this sort of thing happens. The first example of this that I remember clearly happened at DePaul. For younger fans, it's hard to imagine that DePaul was once one of the greatest jobs in America, thanks to the legendary Ray Meyer, who compiled 724 wins there and made a Final Four before handing the job over to his son, Joey.
Joey had a pretty long run of 13 years at the school, and made the NCAA tournament seven times over that span. But he was never his dad, and when the Blue Demons finally parted ways with him, that was it for his big-time coaching career. He's bounced around the NBDL ever since. Not exactly where he thought he'd end up, I'd wager.
Related links
Division I basketball coaching changes
In that respect, Pat Knight is extremely lucky right now. He was given another shot immediately. The shot he probably should have had in the first place. The Lamar Cardinals haven't been to the Big Dance since 2000, and they can use the notoriety that will come from Knight's presence. Knight, on the other hand, can use the relative anonymity of coaching in Beaumont, Texas to
build his own coaching profile
under an appropriate level of scrutiny. This is, honestly, the type of job he should have had in the first place. Something that can be truly his.
The Big 12 actually has given us previous examples of the value of going it alone. When Eddie Sutton came to Oklahoma State, he had Scott Sutton as an assistant coach, then, later, his son Sean joined the staff. Scott was unwilling to wait for dad to retire, and headed out and took an assistant's job at Oral Roberts under Bill Self. He worked his way up to the head coaching spot and built a real reputation as a giant killer, knocking off Self's Jayhawks at one point, and taking the Eagles to three straight NCAA tournaments. Since then, he's been a bit of a victim of his own success, with the team's RPI falling as larger schools began to avoid the Summit League upstart (Oakland, beware). Still, one gets the sense that Sutton can climb the coaching ladder if and when he wants to take the next step, based on his own accomplishments.
Scott Sutton's younger brother, Sean, had the Joey Meyer experience, but much worse. He played and coached under his famous dad, then took over for at OSU in 2006 after Eddie struggled with prescription painkillers and alcohol abuse. Sean was out just two years later, with a 39-29 head coaching record and, eventually, addiction issues that mirrored what his father had gone through. Now he's an unpaid assistant to none other than his big brother Scott, at ORU.
There are some good things about being a crown prince, and that's all most of us tend to see. We devalue our own experiences of toiling in obscurity and working our way up the ladder, daydreaming of the privelege and ease of the handpicked successor. But today's crown princes don't have the guaranteed job for life, the way someone like England's Prince William does. They tend to get one brief shot to prove that they're loaded with magic DNA and then they're thrown on the scrap heap if they prove to be ordinary, or even above-ordinary mortals.
In that respect, Pat Knight is lucky. He has a job that allows him do what he loves. His short stint at Tech gave him a national profile that was actually very positive: Pat projects a likeable sort of forthrightness without the overt bullying and fit-throwing his father has been known to engage in. He may actually be a really good coach some day, and he has the opportunity to prove that notion on his own merits.
Photo: US Presswire