Posted by Jeff Borzello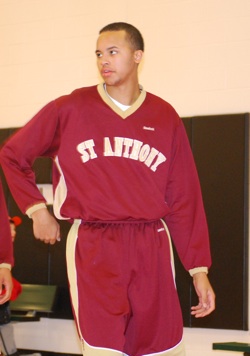 HAMPTON, Va. – Although the AAU circuit started three weeks ago, the NIKE Elite Youth Basketball League event in Hampton this past weekend is recognized as the official start to the travel team season. With 40 of the best 17s teams gathered in one place, as well as top teams on the 16s and 15s levels, there were hundreds of future Division I players in attendance at Boo Williams. From Friday to Sunday, though, several players consistently stood out from the rest of the pack.
Kyle Anderson, 2012, Playaz: Despite his supposed weaknesses, Anderson continues to separate himself as one of the top players in the class. He simply has unbelievable feel for the game, using a variety of crafty floaters and finishes in the lane to score. Anderson doesn't rely on explosiveness or quickness to get baskets, but the point-forward from St. Anthony (N.J.) knows how to make plays. He is a very good rebounder and showed some athleticism on a couple of impressive blocks.
Anthony Bennett, 2012, CIA Bounce: Bennett impresses nearly every time out, but the problem has been his ability to stay healthy. He is seemingly injured for every big event. Bennett was certainly not injured for Boo Williams this weekend. He took his game to a new level this weekend, scoring in a variety of ways and demonstrating his ability to be a match-up problem for most opponents. Bennett hustles defensively and loves to run the floor.
Rodney Purvis, 2012, CP3 All-Stars: Purvis opened the EYBL with a big-time performance against Team Takeover, and never looked back from there. He was consistently impressive offensively, dominating whichever opponent attempted to defend him. Purvis is explosive at that end of the floor, with the ability to blow by defenders and finish at the rim, or knock down perimeter shots. He is fantastic in transition and can also find teammates for open shots.
Shaq Goodwin, 2012, Memphis YOMCA: When the 2012 rankings are updated, Goodwin is a lock to be in the top 20, if not higher. His ceiling is as high as anyone in the class, due to his 6-foot-8 size and versatile skill set. Goodwin is a tremendous passer for someone his height, and his length makes him very difficult to defend around the basket. He runs the floor with the best of them and crashes the offensive boards. Defensively, he can block shots and control the glass.
Omar Calhoun, 2012, NY Gauchos: He's not as athletically impressive as some of the other top players in the class, but Calhoun can score with anyone in the country. His mid-range jump shot is deadly and he has the ability to create his shot off the dribble. Calhoun has a solid build for a 6-foot-5 wing, and he uses his strength to score at the rim. He has very deep range from behind the arc and is nearly impossible to contain when he gets hot from three.
Ricardo Ledo, 2012, Albany City Rocks: Not playing with his usual Expressions AAU team, Ledo still managed to showcase his all-around offensive game and demonstrate why he is one of the top-three perimeter players in the class. He was knocking down perimeter shots over defenders; getting to the rim at will and finishing with both hands; and hitting difficult step-back jumpers and other mid-range shots. Ledo changes directions quickly, and is effective with ball fakes.
Alex Poythress, 2012, Georgia Stars: Poythress continues to rise up the charts. He is long and athletic, and can score in a variety of ways. In the half-court, he can post up defenders and score around the basket. Poythress improved his face-up game and his ability off the dribble, driving to the rim and finishing in traffic. He also added an outside jumper to his repertoire. Going into the weekend, Poythress had a reputation as a very good rebounder; that didn't change one bit.
Nerlens Noel, 2013, BABC: Noel staked his claim to the No. 1 spot in the class of 2013 this past weekend. Offensively, he is still raw and has plenty of room to develop. However, he had a nice jump hook that was effective and he ran the floor well, finishing in transition. What separates Noel from most players is his defense. His length, timing and athleticism make him the best shot-blocker in the class. Noel isn't muscular or physically imposing, but his ability to block or deter shots makes him intimidating.
D'Vauntes Smith-Rivera, 2012, Spiece Indy Heat: Smith-Rivera isn't a pure point guard, but his scoring ability ranks among the best backcourt players in the country. When he gets it going, Smith-Rivera is difficult to stop. He has deep range on his jump shot, knocking down 3-pointers with consistency. He is quicker than one might think, while his strength and build enable him to finish over bigger players in the paint. Smith-Rivera works off screens effectively and is smart with the ball.
Arnaud Adala-Moto, 2012, Team Takeover: Adala-Moto has been impressive in the past, but this weekend was different. He showed that he is a clear-cut high-major recruit, showing abilities at both ends of the floor that will make him attractive to college coaches. Adala-Moto has lost weight in the past year, looking quicker and more athletic. He is no longer an undersized forward; he can knock down perimeter shots and is a legitimate wing. Adala-Moto runs the floor extremely well and finishes in transition.
Also Impressive:
Andrew Wiggins, 2014, CIA Bounce: Separated himself as the top prospect in the class of 2014. Wiggins has a versatile skill set and is still developing.
Wayne Selden, 2014, BABC: Physically dominant, Selden simply owned the 15s division. He is extremely strong and is impossible to stop when driving to the rim.
Matthew Jones, 2013, Texas Titans: Overshadowed by Julius Randle, Jones knocked down perimeter jumpers with consistency and can also get to the basket.
Aaron Gordon, 2013, Oakland Soldiers: Gordon is simply too active and aggressive offensively for most opponents. He runs the floor and can also post up.
Photo: Highschoolhoop.com