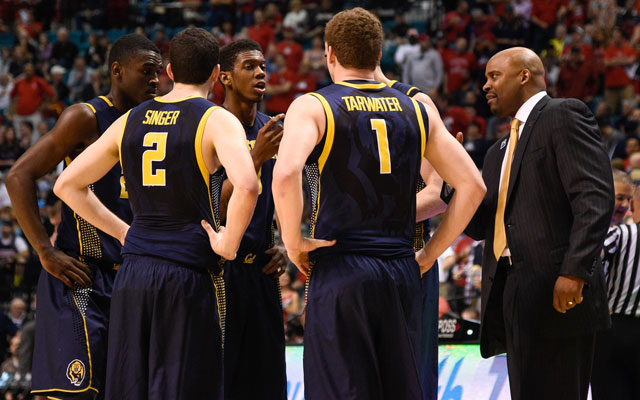 Posted by Eric Angevine

I've said before that Cuonzo Martin's first job at Tennessee is to refrain from embarrassing the school any further. He should be able to do that easily. The hard part comes next. He must try to retain Bruce Pearl's recruits and find a few more who can play. That's not going to be easy at all with NCAA sanctions looming on the horizon.
In addition to the chilling effect of likely sanctions, Martin will have to deal with an uncertain scholarship situation in the short term. Both Scotty Hopson and Tobias Harris are flirting with the NBA, which means their two scholarships are not definitively available when the signing period begins on April 13. That has never stopped a coach from over-recruiting, but neither does it help Martin stabilize a tough situation.
Right now, Martin seems to be pursuing mostly guards. He has offered 6-foot-5 Oklahoma native Josh Richardson and is expecting a visit from 6-4 Kevin Ware from Georgia as well. Aside from those out-of-staters, Martin is, quite sensibly, zeroing in on talent from relatively nearby Memphis, Tennessee.
His first goal was to nail down the commitment of 5-10 Chris Jones, a Pearl signee who seems to be leaning toward
honoring his commitment
. GoVolsExtra.com details several other players from the city who could form the backbone of UT's team if the chips fall Martin's way:
A list of Memphis players Martin is recruiting with graduating class in parenthesis: Jarnell Stokes, Memphis Central (2012); Andre Applewhite, Memphis Central (2012); Austin Nichols, Briarcrest Christian (2013); Jonathan Williams, Southwind (2013), Leron Black, White Station, (2014).
Martin has also looked into some possible junior college transfers with size, but has yet to gain much of a foothold with anyone who can play inside.
Martin recently offered a scholarship to
6-1 Iowa point guard Wes Washpun
, so at least one of those 2011 spots may be spoken for.
Martin has a tough job ahead of him, and the early recruiting period will be his first major test. His earnest ways may sway some recruits, but a serious sales pitch will be required if he is to convince top-level talent to take a chance on the Volunteers.
Photo: US Presswire