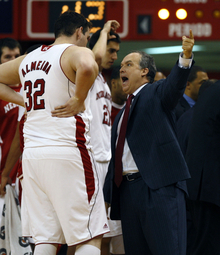 Posted by Eric Angevine


Doc Sadler's tenure at the University of Nebraska has been decidedly mediocre. In fact, his entire career has been a series of missed opportunities ever since he led UTEP to the NCAA tournament in 2005 - his first season as a head coach. At Nebraska, it's been three NIT berths in five years, and only one postseason win in those three also-ran seasons.
There's been one 20-win campaign. No winning Big 12 seasons. His highest finish in the league has been 7th place.
So why did Sadler survive to make the move to the Big Ten? He has four signed recruits for next year, but none of those is the type that could make a big impact in a power conference. Nebraska's top player, Lance Jeter, has graduated, leaving the scoring load in the hands of 6-foot-11 Puerto Rican center Jorge Brian Diaz, who averaged 10.5 points and just 4.4 rebounds as the second option last year.
And yet, not only has Sadler survived, but he's been given an extension. According to the Lincoln, Nebraska Journal Star, the 50-year-old coach has been
given a sweet new deal
that raises his base compensation from a reported $425,000 to a new high of $800,000 annually. According to the newspaper, the University also agreed to pay Sadler around $800,000 in guaranteed compensation should he be fired, as well.
Are we missing something here? Sadler was a popular name being bandied about for Big 12 jobs that opened up at Texas Tech and Oklahoma this season, based largely on his reputation as a strong recruiter in the state of Texas. Now that Sadler's team will be in the Big Ten, even he has said that he'll be turning his recruiting eye more toward the Midwest region.
Sadler's teams have always had a certain look. They often resemble a mid-major trying to compete in a power conference, though that changed a bit recently. In 2010, Sadler's team was small, but managed to shoot very effectively from deep. That team won just two Big 12 games. Last season, Diaz and 6-11 Brazilian Andre Almeida helped turn the Huskers into a good inside team that defended well, which helped the team upset upper-echelon teams like Texas A&M, Texas and Missouri on the way to a 7-9 league finish in their final season in the Big 12.
Perhaps Nebraska is hoping to continue that defensive dominance now that Diaz is a junior and Almeida a (hopefully slimmer) senior. Exactly who might draw the defense to free up those twin towers now that Jeter is gone is very much up for debate, but the big men will be needed when teams like Ohio State and Wisconsin come to town.
Maybe there's something we can't see about Sadler. Maybe he's a wiz at sweet-talking donors for the
new Haymarket Arena
. What we do know is that this new contract will make it very difficult for Nebraska to get rid of Sadler if his teams underperform in their new home. That's a rare commitment for a coach who really hasn't shown an awful lot in his seven years on the bench. If Sadler fails to budge the Huskers from second-tier status as a member of the Big Ten, he won't be able to say that he was sandbagged by his administration. Tom Osborne, the legendary Husker football coach and current Nebraska Athletic Director, gets a ton of leeway with fans of the school, and he'll likely trade some on that popularity if Sadler struggles.
With a
new practice facility
, a new arena and a new conference, Sadler has been given the freshest of fresh starts, and has been handed every tool he needs to do his job better, including job security. There are no more excuses.
Photo: US Presswire