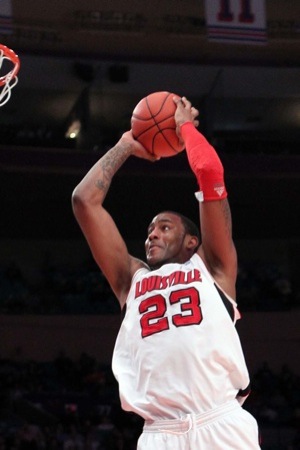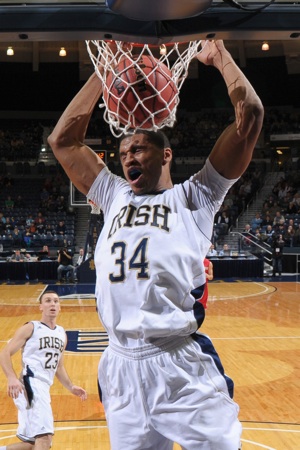 Posted by Jeff Borzello
Louisville has a chance to be one of the deepest teams in the country next season, although the potential loss of Terrence Jennings would throw a wrench into the equation.
Jennings, a 6-foot-9 big man, will test the NBA draft waters but will not sign with an agent.
Head coach Rick Pitino thinks Jennings will return to the Cardinals for his senior season.
"It will be great for T.J. to see how people work in this environment and the type of competition, and I'll get feedback from every general manager on what he needs to work on," Pitino said. "I think it's almost good because . . . all the things I've been telling him, they'll reinforce it."
Jennings averaged 9.6 points and 5.6 rebounds last season, but could return to be part of a loaded Louisville team with Final Four aspirations.
Peyton Siva is poised for a breakout year at the point, while Kyle Kuric, Chris Smith and Mike Marra will man the wings. Jennings, Gorgui Dieng and Rakeem Buckles are solid down low. The recruiting class will make an immediate impact, with small forward Wayne Blackshear leading the way. Chane Behanan is a banger down low, and Zach Price is also effective around the basket.
If Jennings returns, the Cardinals have a chance to make a deep run next season.
Scott quietly tests waters
In a move that went under the radar of most college basketball enthusiasts, Notre Dame forward Carleton Scott announced he was entering the NBA draft.
Scott, a 6-foot-8 senior with one year of eligibility remaining, will not sign with an agent, leaving open the option of returning to the Fighting Irish next season.
"We're just going to test the waters to see how the stock is on the next level," Scott said. "We'll just see how the process works out and go from there."
Scott is a versatile forward who averaged 11.2 points and 7.4 rebounds last season, but he is not ready for the next level at this point.
Mike Brey loses Ben Hansbrough and Tyrone Nash, but the Fighting Irish should have a nice core if Scott returns as expected. Guard Tim Abromaitis is capable of carrying the team offensively at times, while Scott Martin is a nice inside-outside forward. Scott gives them another option at that end of the floor. Eric Atkins showed he is capable of running the team from the point guard position, and Jack Cooley is a banger down low. Incoming freshman Pat Connaughton is a big-time scorer.
It was a quiet decision, but Notre Dame can make noise again next season if Scott returns.
Photos: US Presswire