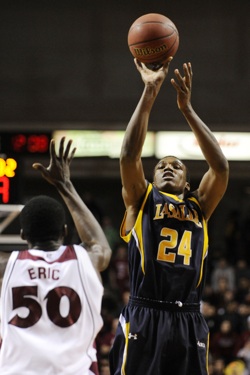 Posted by Eric Angevine


With both Morris twins declaring for the NBA draft, Kansas is suddenly hurting on the interior. If the current roster stands, Bill Self will have only juniors Thomas Robinson and Jeff Withey alongside 6-foot-8 freshman Braeden Anderson in the post for next season. The Jayhawks will no doubt pursue other post options, including some freshmen and possibly JuCo transfers.
One name that has come up in recent days is that of LaSalle big man Aaric Murray. The 6-10 sophomore from Philadelphia has decided to leave his hometown, where he averaged 15.2 points, 7.7 rebounds and 2.3 blocks per game for the Explorers.
According to CBSSports.com's John Rothstein,
Kansas must battle West Virginia for Murray's services
. Murray came close to committing to West Virginia before he chose La Salle. He would be the heir apparent to Kevin Jones after sitting out a transfer year, but the sudden absence of size on the Kansas roster could make the Jayhawks a very attractive option as well. Murray would follow in the footsteps of other Philly giants like the Morris twins and Wilt Chamberlain should he take his game to Lawrence.
Bill Self will still need to find some depth inside for this season, but the situation may not be as dire as it looks. Recall that North Carolina lost a pair of towering twins to UCLA last season and still managed to cobble together a strong inside rotation.
Whether Murray is worth the wait is another question entirely. The Philadelphia Daily News had less-than-flattering commentary on Murray in a recent article, saying "
La Salle coach John Giannini had a season-long struggle with Murray
," Jerardi wrote. "The mega-talent was not always interested in the game. In fact, Giannini said that Murray really does not like the sport. It often showed in Murray's performances. Murray had moments when he was great and other moments when he disappeared, sometimes in the same game. Giannini publicly defended his player, but anyone with eyes knew the coach was having a difficult time getting through to his star player."
That said, the old saw is true: you can't coach height. Self already has a limited-use big man on his roster in Jeff Withey, but he'd certainly rather have two big bodies to work with rather than one or none.
If Murray is choosing between two taskmasters like Self and WVU's Bob Huggins, perhaps he knows he needs a kick in the seat of the pants. Give either of those future hall of fame coaches a year to mold a big man, and he'll either shape up or ship out permanently.
Photo: US Presswire