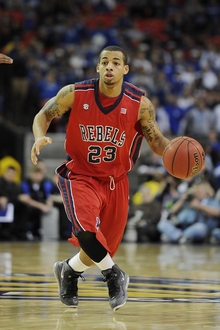 Posted by Eric Angevine


Gary Parrish reported today that starting point guard
Ryan Harrow will leave N.C. State
after one season rather than play for new coach Mark Gottfried. The news was not unexpected, but it's a little bit surprising that Harrow waited so long to announce that he'd transfer, and never threw his name into the NBA hat, to at least gauge his options on that front.
Regardless of the mechanics of it all, the Wolfpack now look to 2011-12 with rising sophomore Lorenzo Brown as the main option at lead guard. Brett Friedlander of the Wilmington Star-News points out that Brown - who is not afraid to drive to the hoop and make plays - is actually
very effective with the ball in his hands
, but won't be able to handle the load alone.
With Brown and top forward C.J. Williams still, as of this writing, scheduled to stay in Raleigh, Gottfried has talented players to work with. Finding enough backcourt players to keep the offense running smoothly becomes a real priority of the rebuilding process the former Alabama coach has undertaken at N.C. State.
The long-term future of the point guard position seemed locked up a couple of weeks ago, when Iowa transfer Cully Payne seemed to hint that he'd join Gottfried. The Midwest native opted instead to stay near home and attend Loyola, and he still would have had to sit out a year had he chosen the Pack, so the short-term problem (which Gottfried must have seen coming) persists.
Gottfried can look to the junior college ranks, which might be a perfect option for the short-term backup position. However, an intriguing option exists in the form of two Ole Miss grads who still have some time remaining on their collegiate odometers.
Trevor Gaskins and Will Bogan have both completed their undergraduate careers at Mississippi
, and are looking to transfer and play a final season elsewhere. As we saw with
Justin Knox at UNC
and John Fields at Tennessee, graduating players with eligibility left can transfer and play immediately, as long as lip service is paid to the notion of finding a graduate course of study that is technically not available at the player's original school. Dress it up as an academic decision, and mum's the word.
Honestly, neither player is a star. That's why they're leaving Ole Miss. They would, however, provide experienced backcourt depth, and that's something the Pack desperately needs right now. Of the two, Gaskins is the better option. He averaged 20 minutes, six points and two assists per game as a junior in Oxford, and hit a solid 37 percent of his deep shots during that time. Bogan played in just 13 games and racked up plenty of DNPs late in the season, and seems more likely to end up at a lower-profile program.
One-year rentals like Knox and Fields don't usually end up being big additions to their new teams. They do, however, provide solid additions to the depth chart without forcing inexperienced players to do too much too soon. It might behoove Gottfried to at least bring Gaskins in for a look and see if he'd be a nice fit. There's nothing to lose and plenty to gain.
Photo: US Presswire